So, the Narrative Clip has been out in the wild for a while now and we've been getting some really great feedback on how we can further enhance our products and some of these suggestions/comments are super creative!
Some of the most common feedback is regarding the relatively narrow field of vision of the Clip, which has resulted in some users getting weird angles pointing at the ceiling and floors etc.
Our Clip has a 70-degree field of vision, and while this coincides mostly with what the human eye mainly focuses on (The cone of visual attention for our human eye is around 55 degrees), it is missing the left and right monocular vision.
We have seen some really cool and creative solutions on getting the right angle (and sharing is caring), so we thought we'd share with all of you.
1. Attaching a wide-angle accessory
We had great fun looking at some creative ways of attaching wide-angle lenses from users. Here are some examples that we saw.
There are several ways of attaching the wide-angle lenses to the Narrative Clip – some users are using adhesive glue, clip on lenses, strong adhesive tape and magnetic clasps. All versions work well and stay securely fastened, however we would recommend using the magnetic clasps for minimal damage to your Clip. It is lightweight, easily removable and you can attach the lens on whenever you want.
Here are some lenses that work for your Clip: Magnetic Clasp Wide Angle lens , Japanese Wide Angle Lens , Photojojo Lens Set
Thanks Jody, Mattias and Noriaki for sharing your photos with us!
2. Using a DIY adjustable-length necklace. 
With the Narrative Clip being a wearable camera, it means that the photos you take may vary on a daily basis depending on what you are wearing and where you attach the Clip. There will often be an initial period of getting familiar with it – on how to wear it in different ways to achieve the optimal angle and picture. So far, we've seen great results with a DIY necklace. Attaching your Clip to an adjustable length necklace means that you constantly have better control of what the Clip is taking (read: less sky pictures). This is Narrative user Paula with her Clip. Check out her interview and pictures here. Try it out and share your results with us!
3. Using your phone to gauge the field of vision of your Clip
If you like the form factor of our Clip (and we know you do!) and do not want to attach a wide angle lens on it, there is also a great way to test your Clip's field of vision. To get an idea of what the pictures are going to look like, simply put your phone on top of the Narrative lens and take a picture with your phone. The field vision of an iPhone is between 53.1 – 36.3 degrees, so the picture taken on the phone when laid on top of the clip will give you an idea of what the Clip picture will look like, minus the extra 14 degrees that the Clip will see.
Alternatively, clip it close to your laptop's camera and compare what that camera sees to get a good angle on selfies 🙂 Thanks for your great suggestion Gamble Anderson! Check out his pictures taken with the Clip after figuring out the optimal field of vision!
We hope you find this support blog post useful. Do you have other great ideas on how to best optimize the Clip's field of vision? Share with us by dropping a comment here. Peace out!
Fun Fact: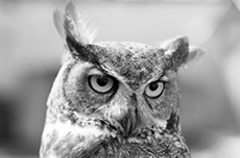 The binocular field vision of an owl is 70 degrees, so essentially the photos you see from your Clip are very possibly the way an owl would view the same scene.