Location:
Honolulu, hi, USA
How long have you been using your Narrative Clip?
2 months
How often do you use your Clip and in what settings?
I use it almost every day.  I wear it out for most activities except for when I am at work. Riding my bicycle, riding my scooter, driving around, out to eat, going on hikes….
Please explain your decision behind getting a Narrative Clip?
Initially when I first ordered it, I planned to use it at work, in the hope it would steal a picture of the many strange people I meet.  I am a manager at a large natural grocery store, and a lot of my time is spent dealing with complaints, shoplifting, and generally eccentric people.  Because my company has an out dated photography policy, I can't yet wear it there.  But I wear it almost everywhere else!
Describe what is it about the Narrative Clip that you like best?
I like that I can effortlessly get pictures that document my activities throughout the day.  I love it when it catches a good picture of my girlfriend, who is usually camera shy but doesn't mind me wearing the narrative.
How do you wear/use the camera?
Usually I wear it either clipped to my shirt, or around my neck from a chain.  When I ride my bike, I clip it to the back or side to get different shots.  Sometimes I'll just hang it from a random place at home or while traveling and see what it gets.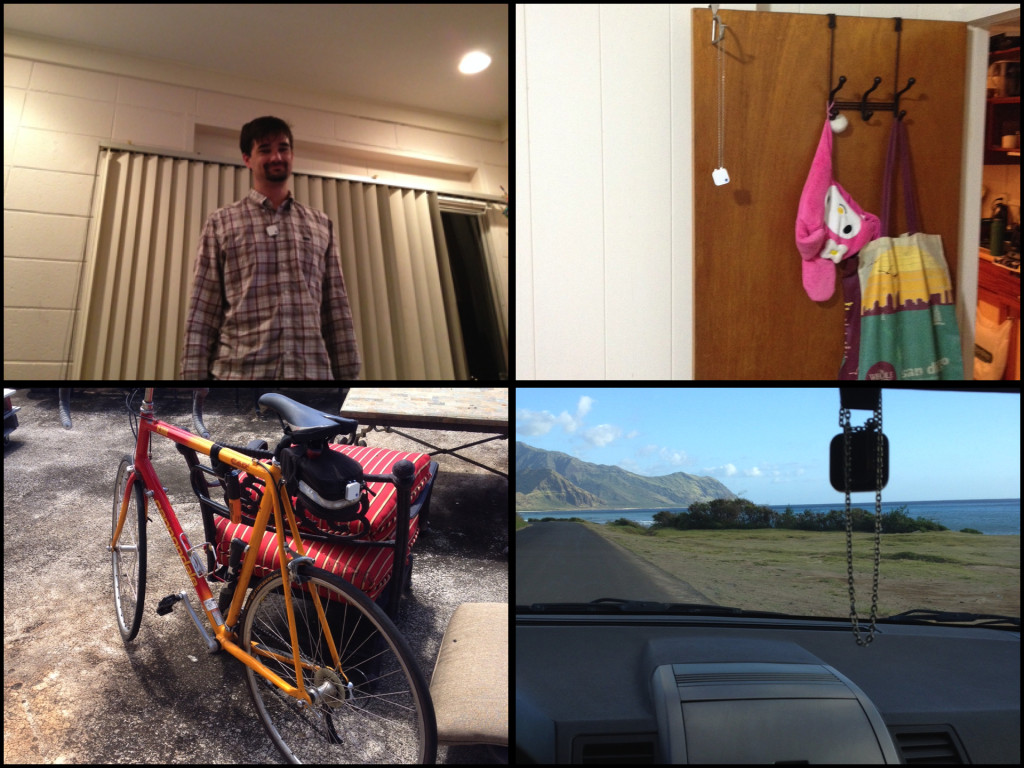 What's the most surprising and/or interesting photo you've gotten so far?
I really like this picture of a girl praying before her meal.  We were at a noodle restaurant in Waikiki and had set the narrative on the table in a random direction.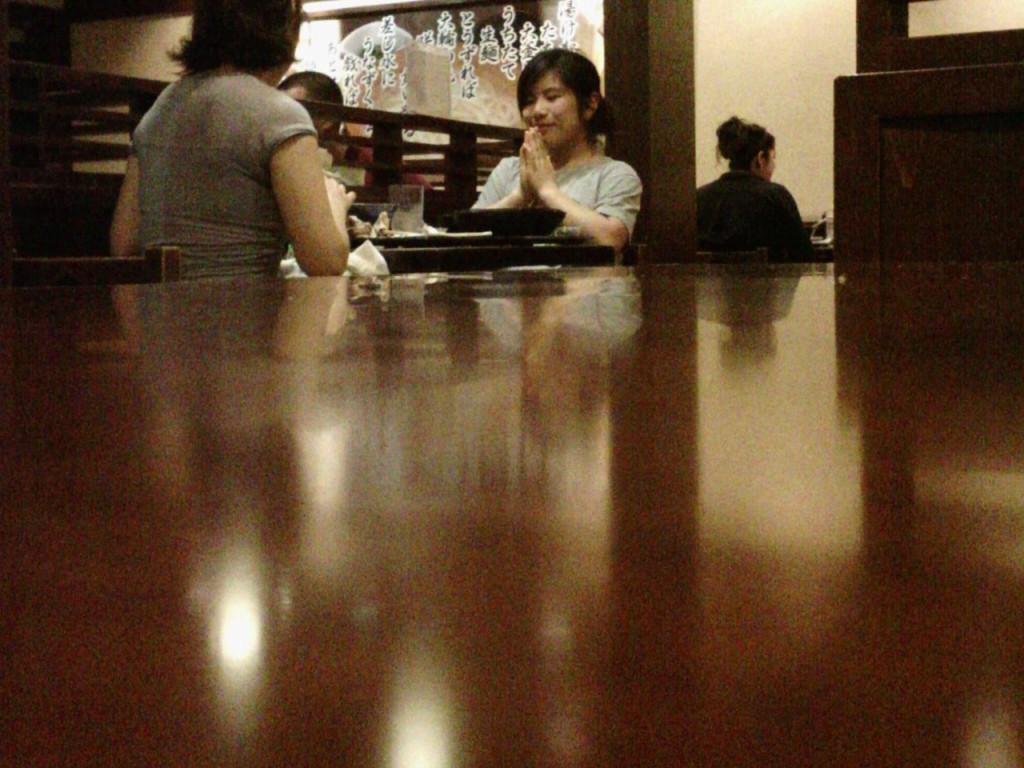 The next one I like is this because it catches my beautiful girlfriend silently enjoying our date to a late night pancake house.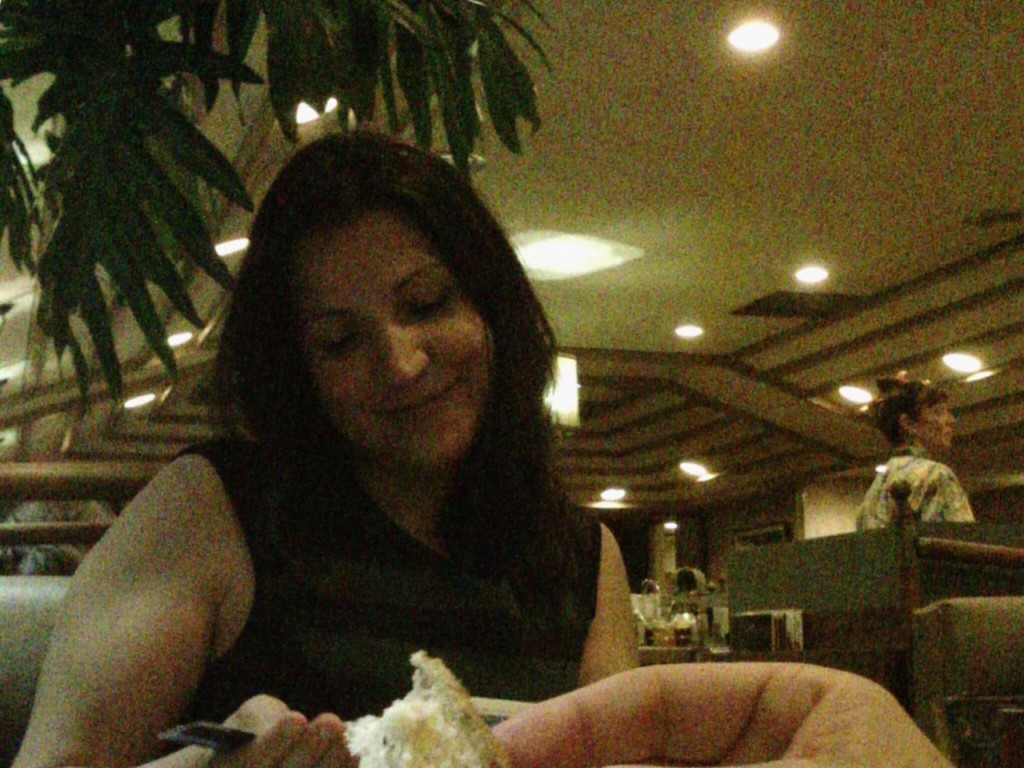 Do you have any stories around how people react to the Clip?
Usually out in public, people glance at it but don't say anything.  Sometimes people will ask what it is, and I just tell the it's a camera.  One guy asked if it was an ITile.
What is the best moment you've captured with the Narrative Clip and why?
We had the clip on a bench watching us play tennis-while it didn't get any great individual shots, as a whole it's fun to watch the moment of us playing like a stop motion animation.
What's a specific use case for your Narrative Clip that you're looking forward to?
I am participating in a metric century ride the day after my birthday on 4/27.  I will clip it to my bike to see all the other cyclists and beautiful scenery of north shore Oahu.
What's a feature(s) you'd really like to see added to the Narrative service in the future?
PC/Mac interface;
Software to map out location of moments on a map
Blog software
On off button
Snapshot button
Rotation lock to avoid warped pics while in motion
Bluetooth to phone
Lens attachments
Other accessories such as necklaces, bike clip with shock absorber, pet necklace clips
Adjustable settings such as picture frequency
Attachments to maintain level or adjust vertical angle
Anything else you'd like to add or other Clip photos you'd like to share?