2014 FIFA World Cup Brazil
The 2014 FIFA World Cup is just around the corner. The heat is on, as we all around the world wait in anticipation to see who will clinch the championship title in the end. Running from 12 June to 13 July 2014, this year's World Cup will take place in Brazil and you could find the exact match schedule here! We at Narrative are also extremely excited because we know that there is at least one Narrative Clip that will be present in Brazil to capture those special moments, thanks to a Narrative Clip user Richard Glenn. Yet before all that action happens next week, we already see some pre-match lifelogging taking place – everything from individual players, within and between the teams, as well as from a macro country's perspective. From heart-wrenching stories to uncertain outcomes, the author is set to convert anyone who cannot stand watching 20-odd men chasing after a single soccer ball. Are you moved?
Read more: 7 Dramatic Storylines to Make Anyone a World Cup Soccer Fan and World Cup Players To Watch For, Part I: Groups A & B
Image credited to FIFA
Fixtures and results beautifully displayed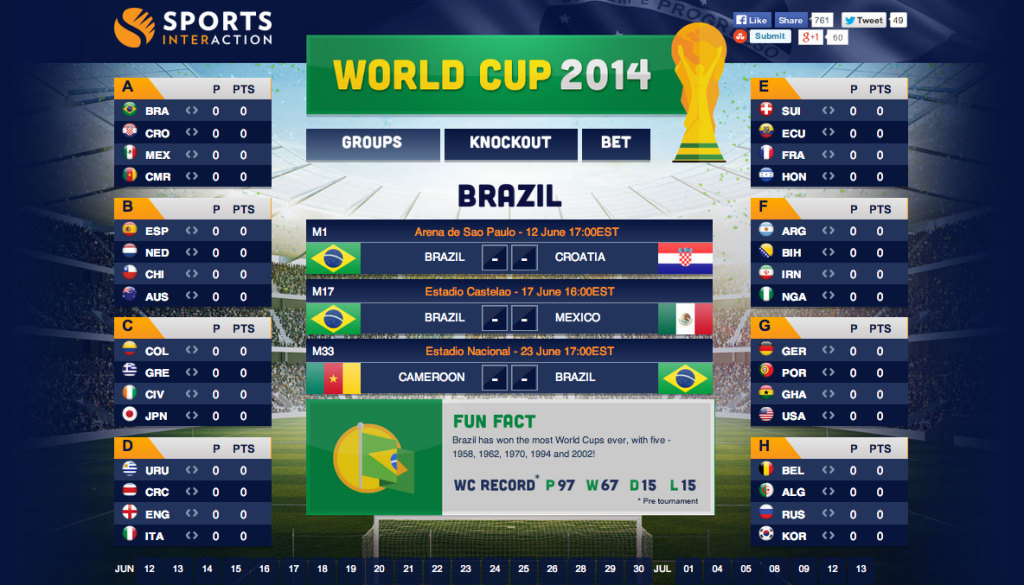 Now if you find that the above match schedule is too incomprehensive, you could also head over here for the most beautifully and clearly displayed fixtures. Besides knowing exactly when your favourite team will be playing under the tab "groups", you could also see how the teams advance under the tab "knockout" – from top 16 to the quarter finals, to the semi finals and eventually the final showdown. You could even click on a specific country to discover fun facts like the number of games played, won, drawn and lost. Isn't it great how someone is keeping a record of everything at the 2014 World Cup and making it so aesthetically beautiful and easy to follow?
Image credited to Sports Interaction
World Cup kits through the ages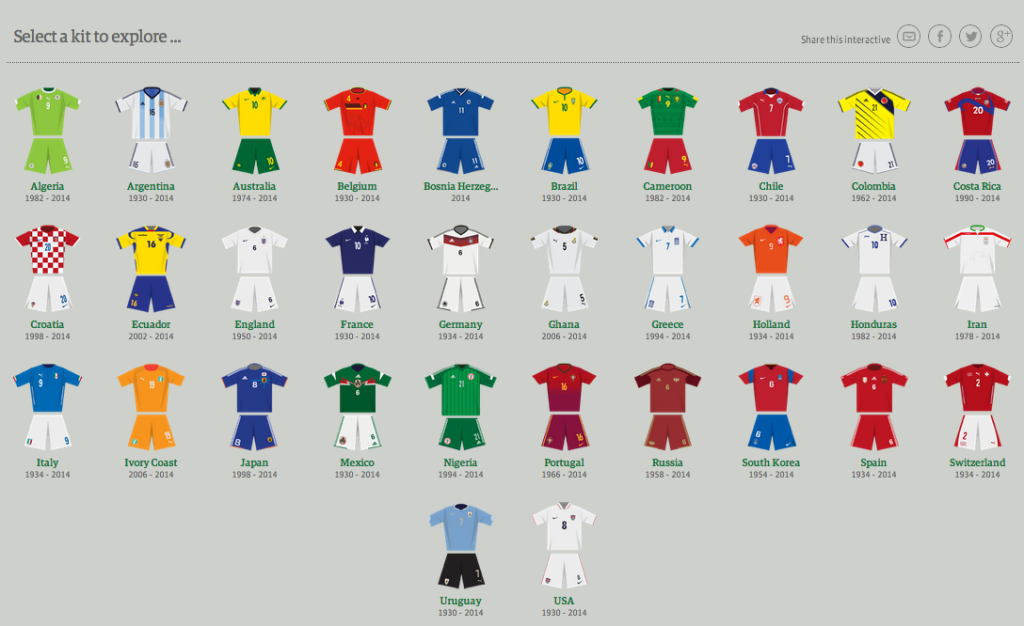 And if you've stuck around with the World Cup for a long time now, you would probably have certain team jerseys that you loved and others that you absolutely abhor. Can't remember which were the ones that fell into those two categories? Not to worry! The team at The Guardian has designed an interactive guide to the World Cup kits through the ages since it began in 1930. Simply click on the team you're interested in and the guide will take you through the number of tournaments played and won, as well as the soccer gear that they put on for the matches. Now you can show off a little more of that sartorial history of your favourite teams and their rivals to those who are unaware of this great graphic. Notice how the fashion in soccer evolved so much for countries like USA and Colombia, and hardly did for others like Switzerland and Argentina! Any one that you particularly fancy this year?
Image credited to The Guardian
Wearable technology for sports
With the rise in use of wearable tech devices for the purpose of lifelogging or fitness tracking, many have predicted that wearable tech for sports will be the wave of the future. In the picture you see above, you would find what is known as the Spree Headband, which measures your heart rate, speed, distance, time and calories burnt amongst other metrics. Besides Spree, one noteworthy tech start-up in Cambridge, MC10, is also playing with a prototype of its Biostamp. This device is a barely visible 2-square-inch patch, designed to stick on any body part like a second skin and record biometric data from heart rate and hydration levels to muscle activity and sleep patterns. This flexible patch of second skin will definitely make it easy for athletes to move about as they wish without feeling like a device is holding them back. Perhaps some athletes at the 2014 World Cup will also be wearing some of these devices so do keep a lookout!
Read more: Sports wearables are the wave of the future and Moving us forward: The rise of wearable technology in sports
Image credited to Portable Studios
Better smashes
And if all that talk about the 2014 FIFA World Cup is still not going to convert you to a fan because you simply adore Roger Federer, Rafael Nadal, Maria Sharapova or Serena Williams too much, or are a tennis player yourself, then you might be interested in this wearable tech device that we are about to introduce. The black wristband that you see in the picture above is known as Smash, and prides itself in being the game changing tennis wearable. Smash gives you insights into your game and then advises you on points of improvement. From that backhand swing to the volley, Smash takes hundreds of measurements in a second to give you a detailed picture of your game. It also allows you to compete against others and yourself so that you will be motivated to improve your strokes. Interested in Smash? Head over to their Kickstarter campaign to support them now. Have a smashing good weekend!
Read more: Smash wearable tech helps tennis players improve their game
If you enjoyed this post, you can also subscribe to our monthly newsletter!