Traveling with the Narrative Clip
"Not all those who wander are lost." – J. R. R. Tolkien.
For all of you who constantly live in wanderlust, this famous quote is perhaps the life motto by which you live. And maybe it is now time to take your little Narrative Clip on a world tour. For instance, one of the Narrative Clip users who also happens to be an avid backpacker, Richard Glenn, mentioned that his first trip with the Clip will be to the 2014 World Cup in Brazil this June! We are so excited to hear more from him! And if you're already planning for a trip and are taking the Narrative Clip with you, here are three quick tips we have for you:
1. Explore new ways of wearing the Clip
Besides clipping the Clip to your t-shirt, explore new ways of stabilizing the Clip. Perhaps to a juice box on your dining table? Or to your huge bag-pack? You might just be surprised at the results you get! In the picture you see above, one of Narrative's founders got creative and managed to piece together a time-lapse video of the sunset in Sicily captured with the Narrative Clip atop a wine bottle. Let your creative juices flow!
2. Take the road less traveled and just wander around
With the Narrative Clip automatically snapping pictures every 30 seconds, you certainly do not want hundreds of photos of your map, as you figure out how to get from one tourist attraction to another. So how about you just walk with your eyes wide open, follow some locals to the fish market or just hang out where everything is foreign and untouched by the mass of visiting tourists?
3. Soak in the moments and don't hurry from one place to another 
Now since you know that the Narrative Clip is automatically capturing your moments for you, how about disconnecting yourself from your mobile phones and get away from that subtle need to whip out your phones to upload that very moment to Instagram? After all, who says you can't #latergram? So don't rush from one place to another just so you can upload another photo onto your Instagram account. Take it all in and enjoy the special moments, be it alone or with your travel companions.
"One's destination is never a place, but a new way of seeing things." – Henry Miller. Like this quote, we hope that the Narrative Clip can accompany you to offer new perspectives while you travel. Bon voyage!
Read more: My Narrative Clip Has Arrived and The Best Travel Advice We've Ever Heard
Best travel destinations
So with all that tips on taking the Narrative Clip to travel, where exactly should you go? Well, if you had been stuck in the cold dark winters, how about a trip to Cancun, Mexico or Rio de Janeiro in Brazil? Here are two lists for best destinations to travel in June and July 2014. Whether is it escaping the bitter winters to a sunny hot island or embracing the knee-high snow after the year-round summer, there's certainly something for everyone! Now if you're a tech junkie when it comes to traveling, you might also want to download these useful (FREE!) apps to bring along, apart from the Narrative Clip that you've already packed in your luggage. And if you happen to come to Sweden, be sure to drop by our office and say hej (:
Image credited to 10 BEST
Travel photography tips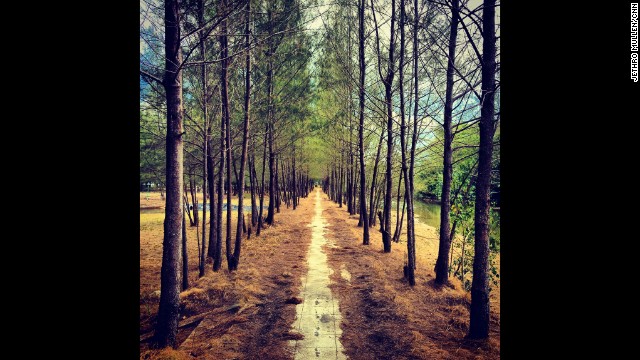 And if you're still bent on logging your travel stories with Instagram, here are some really useful tips to get the most out of your photo diaries. For the sake of this social media platform, you could get on high viewing platforms, learn where the photogenic spots are from the locals, and learn to embrace bad weather. And if you're using a point-and-shoot camera, this "Rule of Thirds" could be an extremely good tip for a great photograph! Go ahead and work those gadgets you brought along to the ends of the earth!
Read more: How to take good Instagram photos when you travel and Five Photography Tips To Help Improve Your Travel Photos
Image credited to CNN
If you enjoyed this post, you can also subscribe to our monthly newsletter!