We had the pleasure of interviewing artist Brandy Saturley. Brandy is a Canadian visual artist whose art is inspired by Canadian popular culture, iconography and sport. We came across Brandy's beautiful works when we heard that she was trying out using Narrative Clip 1 as part of her process when painting a large canvas painting. We further learned that Brandy has very interesting ideas around incorporating technology, such as Narrative Clip 1, into her art and artmaking. You can read all about this in the interview below, which we are beyond happy to be able to share with our Community!

You use Narrative Clip 1 as part of your process when painting, please tell us a bit about how and why?
I am active on social media specifically for my business, working as a full-time professional artist (painting and photography) I typically take one photograph at the end of each day when I am creating a painting. Sometimes I will compile all these daily photos together into a digital video and post to my Vimeo channel. For this new large format painting of four feet by four feet, I decided to experiment with recording the process of this painting from a couple different vantage points using different kinds of cameras, one being the Narrative Clip 1. I experimented with attaching the Clip in different locations; on my glasses, my shirt, the top edge of my easel and even on my cart that holds my painting supplies.  The interesting thing about recording my day from multiple perspectives is, it allows me to view my technique much like a replay for an athlete after a game. The Narrative Clip provides valuable information that I would not otherwise have when working on my own in my studio.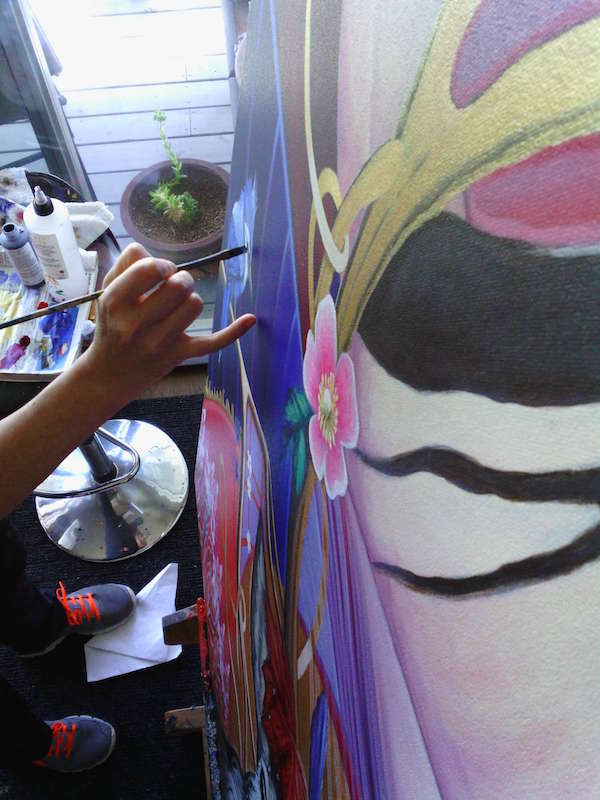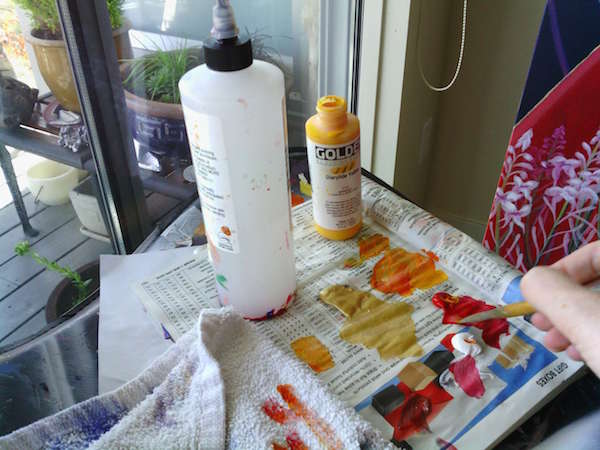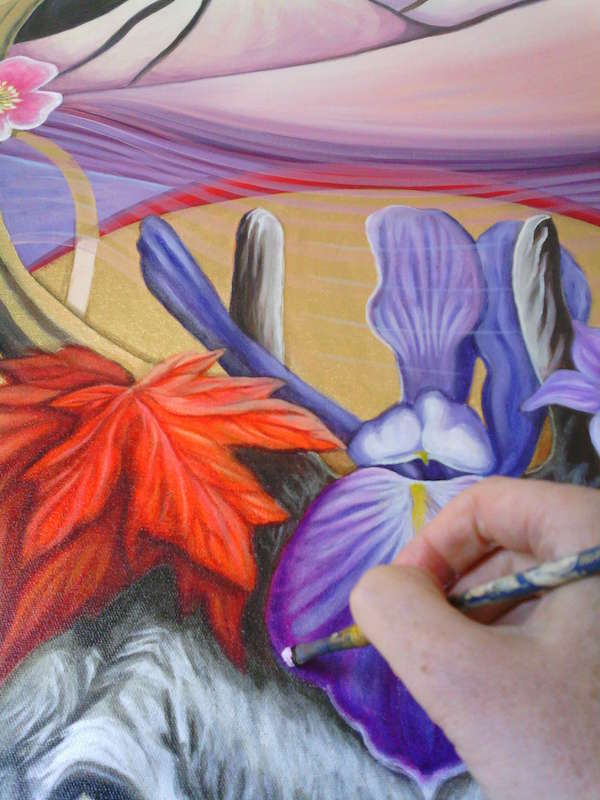 How did you come up with the idea of using Narrative Clip 1 in your process?
I have an interest in creative new technologies, specifically when it comes to photography or art in general. As an independent self-representing artist, I am always looking for new tools that can assist me in educating my clients, in an online world. For an artist, it is challenging to explain to a potential collector how a painting is created and express the work that goes into a piece, especially when it is a painting with a $15,000 value. I feel that being able to offer my viewers a 'VIP backdoor pass' and allow them to experience what goes into a painting by the use of photographs or video, helps educate clients on my craft in a very real and personal way. I have been using my smartphone and my DSLR to capture moments in the studio, but the Narrative Clip offers something very real, lifelogging the events in my studio randomly from a very personal perspective, a bird's eye view in some cases. The size of the unit alone offers a multitude of positioning options that my DSLR or smartphone could not offer without duct tape and worry about crashing and breaking.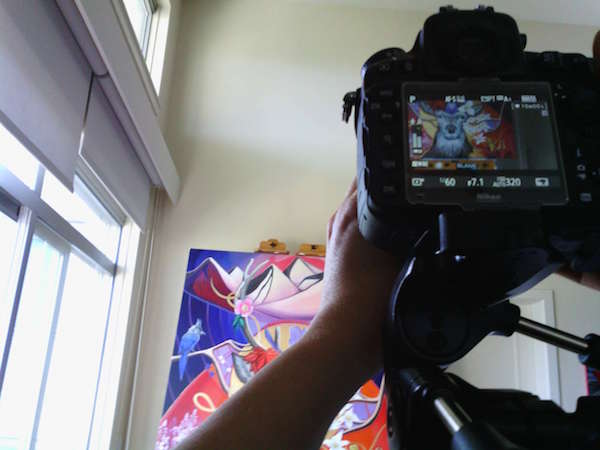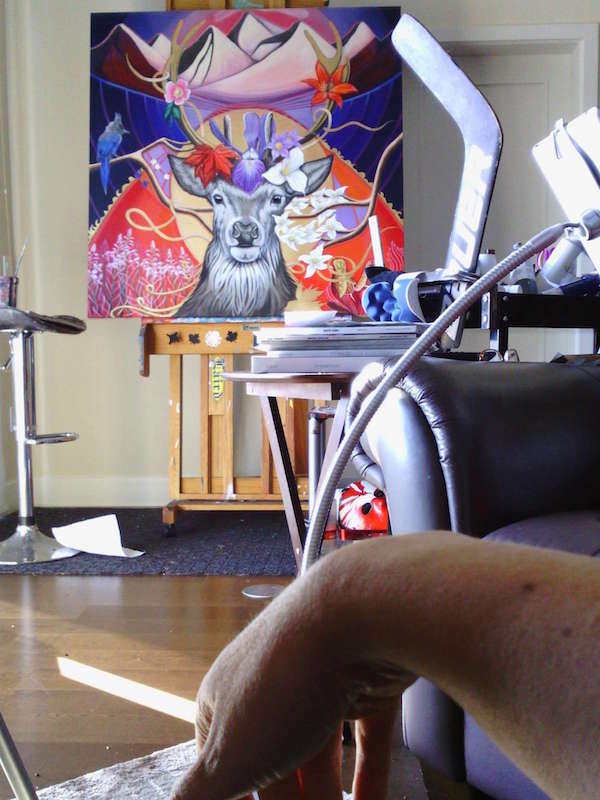 Is there anything else that you have been thinking about regarding the Narrative Clip 1, or the way you use it?
Like with any new tool I experiment with in my studio, new ideas are born. I just returned home from an art trip to Vancouver, Canada. I wore the Narrative Clip 1 on most days and captured some interesting moments that could potentially become reference material for new paintings. I also think that there is potential in regards to capturing the perspective of the audience, in two ways as a visual artist. One way would be incorporating some Narrative Clips into a painting so that they are inconspicuous but also removable at the end of each day. An art opening would take on a whole new perspective, as the paintings while being viewed would now be viewing the audience in return, and creating new art as an extension of the experience. Art creating art. I have also been trying to figure out a way I could record the journey of a painting, from studio, to shipper, and from gallery show to gallery show. I have one painting in particular which has been shown in 7 major art exhibitions across Canada, what would that journey look like from the paintings' perspective. It would also be of interest capturing the public's reaction to the work. What if everyone at an art opening wore a Narrative Clip and then at the end handed in their Clip to the gallery? The only thing that limits potential is denying there is such thing and I see a multitude of potential projects all inspired by this tiny little camera.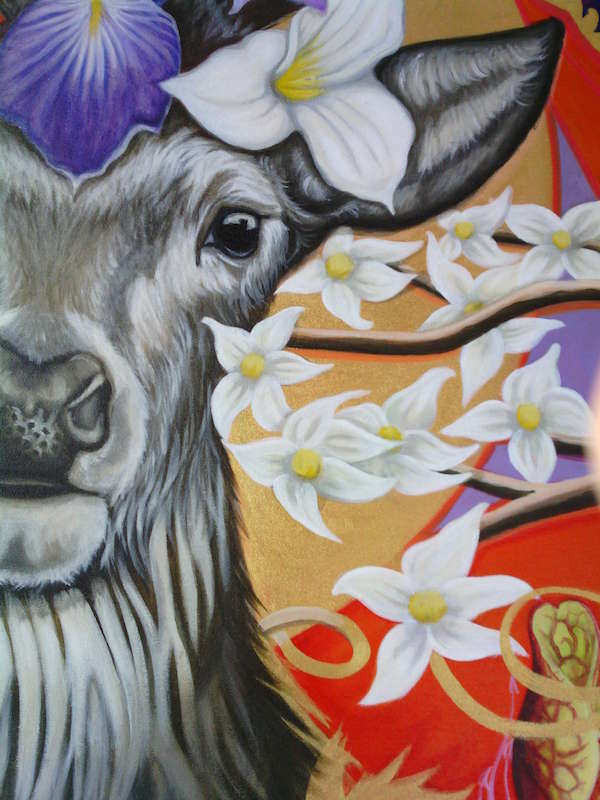 See More of Brandy and Her Art:
Check out more of Brandy's art through her social media accounts: Instagram, Twitter, Facebook, Vimeo and her Website.
The Narrative Community
We love our community and all the amazing use cases you come up with around the Narrative Clip. Do you have images to share? Do it through your own social media accounts using the hashtag #NarrativeClip – and now you can even share whole Narrative Moments through the Narrative web app!
Do you not own a Narrative Clip yet? Enter our #CaptureJoy contest for a chance to win Clip 2. One winner is picked every week, good luck!