Image credited to Cllbr
One of the most commonly cited deterrences in the mass adoption of wearable tech has been its design, which has often been associated with being too dorky. However, as we will see in this article, high fashion and high tech seem to be converging. Wearable tech developers are putting greater emphasis on design, while various fashion players are also entering the wearable tech scene. Here are 4 examples of how fashion and tech are meeting.
Read more: The Narrative Clip shows off its innovative style at New York Fashion Week and Britain's fashion pack targets tech-savvy men to lift sales
1. Michael Kors
Image credited to Bloomberg
John Idol, CEO of Michael Kors, has announced that MK is about to turn it up a notch with regards to high-tech, high-fashion products by entering into the wearable tech market. This, perhaps, does not come as a surprise to close followers of this "affordable luxury" icon,  since it has previously shown some interest in tech-centered products through its lipstick tubes and compact mirrors that double up as portable phone chargers. Tell-tale signs also include how MK entered into partnerships with Intel and Google to develop wearable technology for the fashion industry in 2014. Up till now, MK seems to be taking it slow because Idol is interested in creating an entire ecosystem for this wearable tech product line that will enrich customers' wardrobes and their lives. Keep a lookout for MK in the wearable tech scene!
Read more: Michael Kors Is Getting Into Wearable Tech
2. Tory Burch
Image credited to Tory Burch
One of the biggest players in the fitness tracking and wearable tech scene has been Fitbit. Initially starting out as a simple addition to your wrist that could improve and ease your fitness tracking woes, Fitbit is now also in collaboration with Tory Burch to make sure that this piece of wearable tech device is looking more like a classy accessory that is versatile enough to accompany you on various occasions, instead of remaining as a durable- and athletic-looking tracking device. Is the Tory Burch brand and look enough to command a higher price tag from you?
3. Swarovski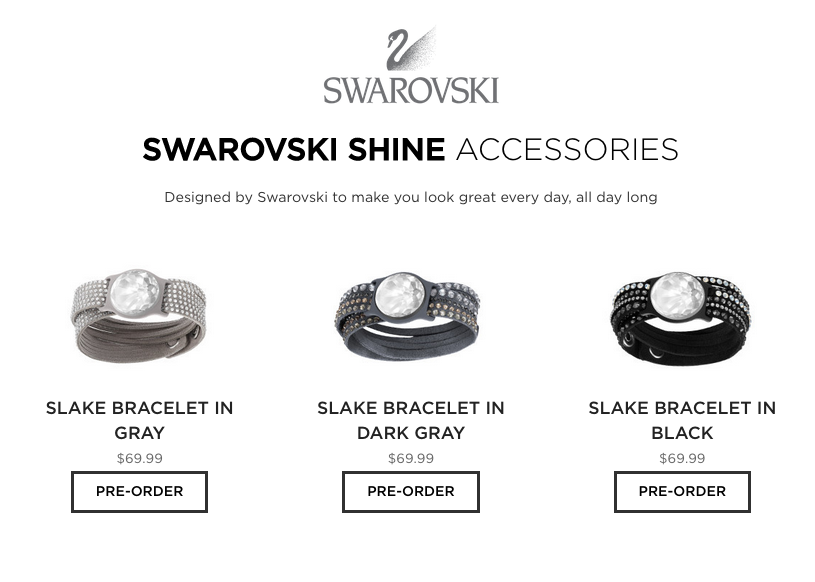 Image credited to Misfit
At CES this year, Misfit announced its partnership with Swarovski that resulted in a new range of Swarovski Shine Collection. This range currently includes two new, fully waterproof wearables – a clear Swarovski Shine with a brilliant crystal face and a violet Swarovski Shine which uses a patented "energy crystal" technology to power itself. What this means is that this new product line becomes the first wireless activity and sleep monitor that makes use of an energy-harvesting technology to enable it to never require charging or the replacement of batteries. Will the Misfit Shine sparkle in the wearable tech market because of this collaboration?
Read more: Swarovski reveals wearable technology line
4. Ear-O-Smart
Image credited to MaRS
Besides Ringly and Cuff, both of which embrace the jewellery wearable tech idea, one other tech start-up is also interested in going back to the reality of how most of us wear accessories (which includes wearable tech devices) to enhance our looks and reflect our personality. Ear-O-Smart prides itself in developing a wearable tech product that focuses on design right from the beginning. Disguised as a classy earring, Ear-O-Smart can monitor your heart rate, calories and activity level. According to Ear-O-Smart's President, they have decided to develop earrings instead of other accessories because physicians traditionally use the earlobe to monitor the heart rate and blood oxygen of patients due to the high blood flow in this area, which provides more accurate information compared to leading wristbands and chest straps. Would you put on a pair of these earrings?
Read more: How Ear-O-Smart is designing wearable tech that puts fashion first
Tailored tech?
Image credited to Billionaire
According to the co-author of a research report exploring a fashion-led wearable tech market, many start-ups "assume people will buy them (wearable tech) because of the coolness of the tech. However, wearables are not only technology devices". With the convergence of wearable tech and high fashion, will we be able to strike a balance between the quick obsolescence and mass market targeting of technology, versus the idea that high fashion goods become more valuable over time and favour exclusivity over inclusivity?
Read more: Tailored Tech — The Rise of Wearable Technology
If you enjoyed this post, you can also subscribe to our monthly newsletter!