Lifelogging in space
We know that the Virgin group has started launching commercial flights to space, but it isn't every day that we get to see what life is like on space or the preparations that go into making it possible. So we found a video by the European Space Agency that we would like to share with you. According to Huffington Post, this video shows cargo being loaded aboard the agency's unmanned spacecraft Georges Lemaitre, which is being readied for summertime launch to the International Space Station. This cargo load weighs more than 2600kg and is delicately transported in a germ and virus-free environment since living in space weakens the astronauts' immunity. Once these preparations are made, the astronauts are ready to launch right into space. And you might be wondering, what's life like up there away from the Earth we live in? Here's one more time-lapse video that you absolutely should watch, simulating the universe's evolution since 13 billion years ago. Super fascinating!
Read more: This Amazing Time-Lapse Video Proves That Packing For A Space Voyage Is Pretty Complicated (VIDEO) and Amazing Time-Lapse Video Shows Evolution of Universe Like Never Before (Video, Images)
Image credited to European Space Agency
Wearable tech for airlines and airports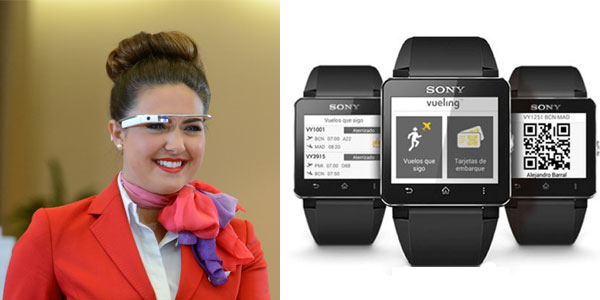 Speaking of the Virgin group, its airline wing, the Virgin Atlantic, has also been in the forefront of using technology to empower their staff and increase customer satisfaction. Earlier this February, Virgin Atlantic announced a trial of the use of Google Glass and the Sony Smartwatch at the London Heathrow Airport, using the product to greet passengers by name and provide real-time travel and check-in information. Subsequently, other airlines such as Vueling and Air Berlin have also followed suit. According to Renaud Irminger at SITA Lab, wearable technology that is commonly seen as a consumer product could be gaining more traction as an enterprise tool, specifically in this case to make the travel experience more seamless than ever.
Read more: How can airlines and airports get the most value from wearable technology?
Image credited to Future Travel Experience
Meet the Godfather of wearables
With wearable technology playing such a huge part in our lives in the years to come, let's date back to understand this sphere a little better. We know that lifelogging began with people like Steve Mann and Gordon Bell, but what about the premise of wearable devices that is so crucial to the area of lifelogging? According to The Verge, wearable devices first began with beavers – yes, you hear right. Known as the Godfather of wearables, Alex Pentland first explored the sphere of wearable technology when he was tasked to develop a method for counting Canadian beavers from outer space (oh yes, we do have an affinity with space today!). From the behavioral habits of the beavers, Pentland understood that beavers create ponds, and thus one could count the number of beavers simply by counting the number of ponds created. When this project was over, Pentland continued to be fascinated with the idea of using the same approach to understand humans and societies, or use sensors to unravel social behavior. Therefore, through a series of dedicated research, Pentland became key to making wearable technology an important research and development area at MIT today.
Read more: Meet the Godfather of wearables
Image credited to The Verge
World's toughest job
And of course it's not just about the Godfathers, especially with Mother's Day looming just around the corner. In fact, interestingly, Mother's Day was founded because one lady, Anna Jarvis, wanted to honor female achievements after being annoyed that American holidays were only dedicated to honoring males. However, things did not turn out the way she actually wanted it to be. She never wanted Mother's Day to be so commercialized and associated with florists and candy-makers, but a simple affair that truly appreciated mothers as they are. In the video above, you would find how moms really hold the world's toughest job, desiring that their child grows up healthily and well. And even though parents often complain that children grow up too fast, documenting their growing up years could slow things down with a little reminiscing. Here's how one mother used her Narrative Clip to document her child's growing up years. In her words, "To be able to capture a moment with my girls is something that usually takes a lot of hassle. But with this, I can just place it close by and every minute it will take two pictures. So while we play and have fun, it captures the moments so that I can reminisce later." Happy Mother's Day to all our lovely ladies out there!
Read more: The Founder Of Mother's Day Hated What The Holiday Became and The Forgotten Photos of Mothers
Video credited to cardstore
If you enjoyed this post, you can also subscribe to our monthly newsletter!