Incognito wearable tech devices
Lifelogging relies on two principles – being integrated and meaningful. Integrated in the sense that the lifelogging devices used can be easily assimilated into our everyday lives, while collecting data that is meaningful enough for us to carry on. These concepts, are in turn often tied to wearable tech, which in this article is said to be currently divided into two contrasting design ideas: the visible and the subtle – visible so that every one can see how cool and futuristic the devices are, but subtle enough so it doesn't turn people away. Examples of these incognito devices are the Dash in-ear headphones that also measure our body's vital signs and the Google Glucose Monitoring Contact Lenses that you see in the picture above, which through a small wireless chip, will test the wearer's tears for his or her glucose levels. But what will it really take for wearable technology to reach a tipping point? Are the ideas of being visible, subtle, integrated and meaningful enough? Or will they have to become one with us? That future doesn't seem too far when two biomedical students are already working on the powering of wearable electronics using naturally occurring chemical processes in the blood. What do you think?
Read more: 7 Incognito Wearables You'd Never Guess Were Gadgets and The Ultimate Wearable Technology and More Than the Next Shiny Object: Why Coke Is Investing in Wearable Tech
Image credited to JEFF CHIU/ASSOCIATED PRESS
Google's time-lapse street view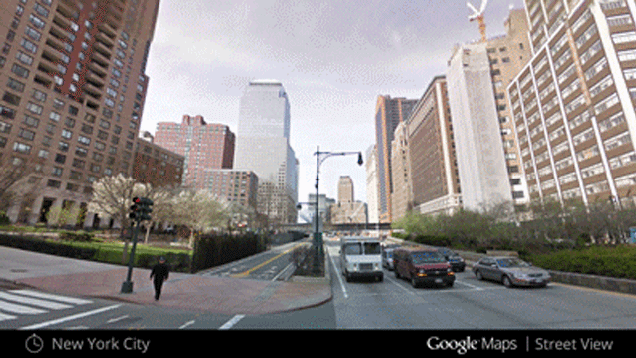 Reminiscing is no longer confined to digging out those old photo albums tucked deep in our cupboards. Just this week, Google introduced a new way for us to reminisce, which puts their years of lifelogging on the streets to good use. The Google Maps Street View has been so helpful to us all in navigating our way through new places. Now, its Street View has a new bonus feature that allows users to go back in time to see how a particular place looked like years ago. Perhaps that building you used to jog past is now gone. Or maybe there's now a new office building three streets down that you never noticed before. From its teleporting capabilities, Google Maps Street View now also becomes a time machine good for all who love lifelogging. According to Time, there will be double the number of Street View images that were previously accessible, captured by the Google Trekkers who have driven more than 5 million miles in 50 countries since 2007. Thank you Google for doing so many things for us!
Read more: Google Street View Now Includes Time Lapse Feature
Image credited to Gizmodo
DIY filters
Many of us use all kinds of apps for our lifelogging pleasures – Instagram, Step and Chronos, just to name a few. Now if you love the filters on Instagram, you might just want to try these little life-hacks that Mashable arrived at. Using simple things that can be found in our everyday lives, and then attaching them to our point-and-shoot cameras (try them on the Narrative Clip, if you'd like!), you'd find pretty interesting images that follow! Some of these everyday items proposed by Mashable include sunglasses, old film negatives, lace and the Pringles lid that resulted in the image above. So grab those translucent cups or cellophane paper for that added effect! Let your creativity run free and feel free to share your photos with us!
Read more: 10 DIY Photo Filters to Think Outside the App and LifeLoggers: Chronicling the Everyday (Exhibition at Elmhurst Art Museum)
Image credited to Mashable
Piece them all together
Now if a picture is worth a thousand words, the above is probably worth a couple of million words. This was taken by architectural photographer and aviation geek Michael Kelley at the Los Angeles International Airport, which allegedly had an average of 1,685 takeoffs and landings a day in 2013 (that's 1 takeoff or landing every minute!), making it one of the busiest airports in the world. In his website, Michael points out that he is interested in making photographs that aren't just snapshots of a single moment and thought that it would be interesting if he could seem to capture more than one plane in flight at once. Michael also enjoys taking aerial views of cities by taking helicopter flights over diverse landscapes. Check out more of his works here and get some inspiration (perhaps combining with the DIY filters above)! Have a good weekend, everybody!
Read more: Nature's Rainbow Proves Earth Needs No Filters and 10 Emerging GIF Artists Who Prove Motion Photography Has No Limits
Image credited to Michael Kelley
If you enjoyed this post, you can also subscribe to our monthly newsletter!