How did you hear about Narrative and how long have you been using your Clip?
I read about Narrative (then Memoto) while I was doing research for lifelogging tools a couple of years ago. I became an Earlybird Kickstarter backer in October of 2012, and my first moment in my Narrative timeline is from Thursday, February 13th, 2014. I have been using it for almost a year now – with a small break in the timeline when I lost my first Clip on the sidewalk during a visit to Manhattan late last year. When I attended CES in January, I visited the Narrative booth to learn about the upcoming Narrative 2. I met Martin Källström (Narrative's CEO) at the booth and told him my tale of woe. He surprised me by giving me a new Clip! I've been using it ever since.
How often do you use your Clip and in what settings?
I try to remember to put the Clip on every time I leave our place – to make it part of my everyday, and to capture as many moments as possible. You never know when you'll have a cool and unique experience that you'll wish you would have captured, or didn't want to take the time to capture in another way. I especially like to use the Clip while traveling – we love seeing the actual journey we're taking, in addition to the shots we take while we're on the trip. We like to take turns wearing the camera, to get different perspectives.
Please explain your decision behind getting a Narrative Clip?
I've been interested in the Quantified Self phenomenon for a while – I've been lifelogging via a number of apps, my partner and I have attended the QS conference at Stanford, and I curate a Flipboard magazine called "My Instrumented Life". I thought there should be a way to attach photos and memories to the other streams of personal data I generate, so when I learned about Narrative, I was quick to sign up.
Describe what draws you to this kind of technology.
I used to say I was a gadget guy – always interested in the latest thing. I remember buying one of the first camera phone attachments for my SonyEricsson T68i, way back in 2002. Now I feel like I'm interested in the experience the gadgets provide, rather than the gadgets themselves. The Clip is small and unobtrusive, and I like the way it can capture moments without effort.
How do you wear/use the camera?
I have experimented with a few ways to wear the Clip. Generally, I just try to clip it to my shirt, whether on the collar of a long-sleeved t-shirt, or in the placket of a button-up shirt. Sometimes I wear it from the chest pocket on a suit. I also have a couple of "mountings" – I use a rubber choker-length neck cord from which I suspend the Clip like a pendant, and I use a specialty eyeglass keeper I saw on Shark Tank called the ReadeRest – it fits the Clip perfectly.
This is from an event in Park City, Utah – the clip is on the ReadeRest, clipped to the sweater. It's barely noticeable. There are more photos of how I wear it below.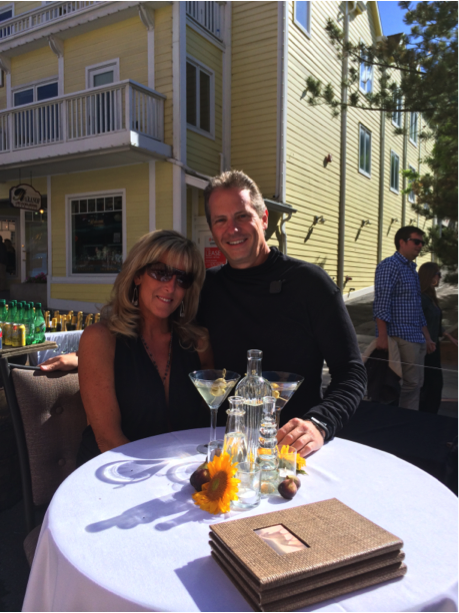 What's the most surprising and/or interesting photo you've gotten so far?
On a vacation in Mauritius – I put the camera up on the porch railing from our cabin and pointed it at us while we lay in the sun and went swimming. I'll always remember the trip, and now I have a set of photos of us just enjoying the day, in a way I wouldn't have had, without hiring a photographer to follow us around.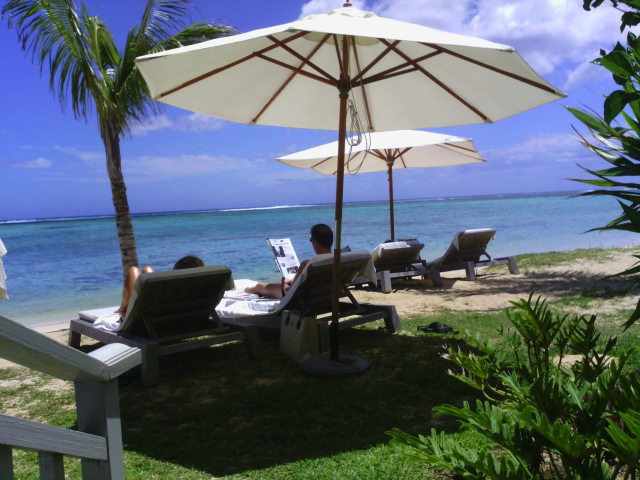 Do you have any stories around how people react to the Clip?
Most people don't even notice, and most of the ones that do notice are excited to learn about the Clip. I'm sensitive to the difference between public and private places, and try to be cognizant of any issues around privacy. The conversations I have with people who do have mixed feelings about the Clip typically go something like, "Wow – I'm not sure how I feel about the idea of someone having a camera…. Hey – can I see/have the pictures your Clip caught?"
At a formal charity event, I wore the Clip on my tux. A friend's colleague asked about it, and we had a good conversation about privacy, public spaces, and captured memories. His initial position was that he wasn't sure if he wanted a record of himself – dismissing the number of press and event photographers milling about.   The event was terrific, and everyone had a great time. A day after the event, I got a message from him, asking if I could share some of my photos from the event.
What is best moment you've captured with the Narrative Clip and why?
Our families are all over the country, and the world. I have a lot of shots from family events we've attended, where we get to see people we so rarely see. It used to be, at these events, someone will stop and shout "picture time!", and we'd all line up for a picture. That still happens, but now we also get "captured moments" that are so candid and personal. <Some photos below.>
How do you remember to wear your Clip? Any particular triggers you've adopted?
Whether we're at home or at a hotel, I try to keep the Clip in the same place – next to the Macbook. If the Clip is not plugged in, transferring moments or charging, it's next to the laptop with my keys and wallet. I don't need the wallet or keys unless I'm leaving, so it works to keep them all together – I can pick up all three as I'm about to walk out.
What's a feature(s) you'd really like to see added to the Narrative service in the future?
I posted a request to the Narrative Community blog that I'd like to be able to change the frequency of the pictures – that would be especially useful during performances, family gatherings, and events. Fantastic news – I just received an email update that this feature will be available soon! Beyond that – two other things: First, I think many of the QS and lifelogging apps (including Narrative) would benefit from a bit more ecosystem "sharing" – APIs to provide programmers the ability to tie Narrative moments to other moments captured from other apps would be fantastic. How great would it be to see pictures from before or just after a run, or the images from the first ten minutes after I checked in at a restaurant with friends? Second, I'd like the ability to trigger a photo capture based on a pre-set location. Every time I walk into my building, or my favorite bar – that would make for an interesting longer-time review. And – as someone who's lost a Clip, I'm also looking forward to the new mounts that are to be available for the Narrative 2. 🙂
Anything else you'd like to add or other Clip photos you'd like to share?
I wear the Clip all the time, and am so happy to have the memories that would otherwise go uncaptured. I don't have to stop the actual event to take a photo, and we end up with cool shots that people are excited to see. I'm looking forward to the evolution of the Narrative Service, for even more functionality in the future.
These are some shots of my partner and me – traveling and enjoying various events. I'm wearing the Clip in each one. It's barely noticeable. The first and second are in the airline lounge and on the plane, on the way to a vacation. The Clip is on my shirt collar. The third is from Mauritius, with the Clip on the pocket of my shirt. The one
with the mural in the background is from the Canary Islands, at a beach side bar. The Clip is on choker. The last one is in Dallas, and the Clip is on the V collar of my shirt.
Below are some shots from the Clip. The first three are from a vacation in Punta de Mita, Mexico with my partner's sister and her husband.
The next two are from a family weekend in Portland, Oregon with her other sister and their two twin girls.
These two are from the event in Park City, Utah.
This photo is from a family gathering, with people we rarely see. It's fantastic to have such candid shots.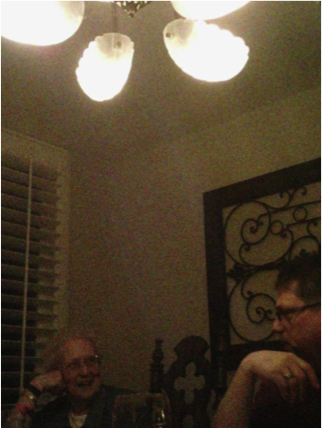 These are the two mounts I've found useful.