Lifelogging has been around for quite a while. Its progress, however, has been rather slow until recently – when wearable technology and various sensors have made it simpler to gather and analyse personal data. While most of the lifelogging updates currently come from fitness enthusiasts or early adopters such as those who belong to the Quantified Self movement, many have also speculated that we would see an increase in the number of lifeloggers that is congruent with the increase in the number of tech giants hopping onto this mega trend. Here's how you can tell if you're ready for the age of lifelogging:
1. You're beginning to count every moment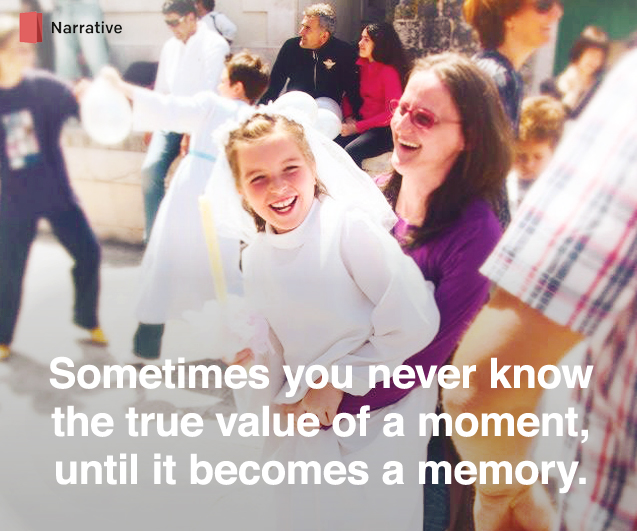 If you are counting almost every moment in order to make every moment count, then you're probably on the right track towards becoming the next most avid lifelogger on earth. Meet Chris Dancy, the most connected human in the world right now, who has done just that to connect the dots between data that is otherwise intangible. Chris makes use of between 300 to 700 sensors, applications, devices and services to track and optimise his way of life and believes that the most connected man is you, just a few years from now. So if you already find yourself scurrying around your home to find a notebook just so you could scribble down how many squats you did today compared to those you did yesterday, or are actively taking pictures of your food to track how your diet and mood varies across the week, you could be well on your way to be that most connected man that Chris speaks of. In fact, some have even mentioned that one of the benefits that arise out of counting every moment is how it could useful for defying the rising healthcare related costs, as we monitor, prevent and maintain our own healths in future. How far would you go to count every moment?
Read more: Counting every moment
2. You're comfortable with letting the devices work for you
In fact, you trust that the lifelogging devices you are wearing are tracking your personal data for you even more accurately than you are tracking your own life. Like Lauren Constantini mentions in the video above, our bodies are radiating data continuously since the beginning of time. With the advance in modern lifelogging technologies, we no longer have to rely on our pens and notebooks but can maintain the enriched life brought about by wearable sensors. As mentioned by Lauren, wearable technology and the Quantified Self are ways of expanding our humanness, enhancing our ability to listen to and learn about our own bodies with technology as the enabler, instead of restricting that ability to the doctors. With these personal data, we can then manipulate our moods or environments for the better. In other words, technology works for humans in order for us to be more mindful, aware and present. Do you agree?
Video credited to TEDx Talks
3. You're moving beyond the pedometers
You're not just comfortable with replacing your pen and notebook for a pedometer or heart rate tracker. You're beginning to experiment with all sorts of wearable tech devices for your lifelogging pleasures. Or it might even be tech tattoos that you are putting on. In fact, Fjord has compiled all the wearable tech devices that you could be wearing right now. It could be a Melon Headband for your brains, or a Jawbone UP for your wrists, or even the Sensoria Smart Socks for your feet. And as it turns out, 70% of users put on these wearable devices for the purpose of tracking health & fitness, while 23% use them for communication. What kind of wearable tech devices do you put on regularly?
Read more: 7 wacky wearables that show how the industry is evolving
Image credited to Fjord 
4. You don't do it just to look trendy
And even though it has been said that wearable tech now rules the runway, you don't just put on these devices for the sake of looking trendy. You care enough to invest time and effort into analysing these data, not as a passing fad, but as a long-term habit. As David Carr from Information Week Healthcare mentions in the video above, the thing about wearable tech lies in its potential to tap on so much more information about users themselves. This pales in comparison with simply going to the doctor's once a year for a medical checkup. With the quantified self movement, both the user and the doctor could share the information for better analysis or treatment. This though, will of course depend on whether the wearable tech user is consistent and determined enough to capture data that can be used for that purpose.
Read more: Quantified Self Should Be About Health, Not Ego and Wearable technology and health apps: our future healthcare, coming soon
Video credited to GuideWell
5. You are excited about the Quantified Self meeting Big Data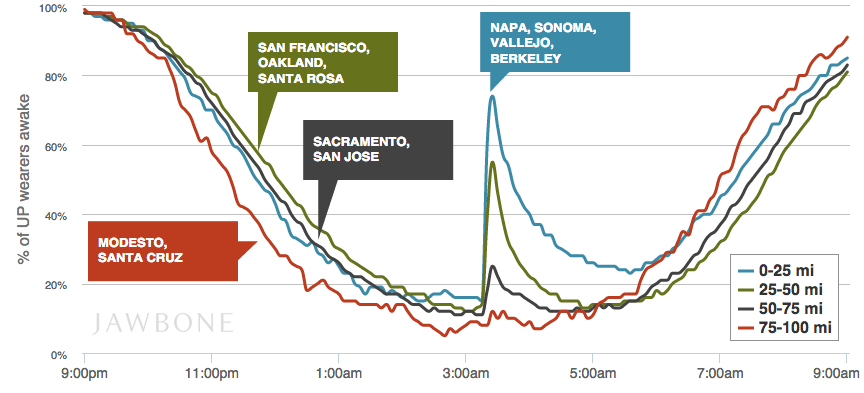 Not only are you aware of the benefits that habitual and mindful lifelogging can bring to you as an individual, you begin to realise that it could bring about significant advantages collectively as an entire society or human race as well. As a starter, Jawbone saw patterns in how users of the Jawbone UP activity tracker were awoken during the Napa earthquake earlier in August this year. This however, could translate into advances in medical discoveries in future. With enough users lifelogging actively, perhaps food scientists and medical doctors could collaborate in finding out the types of food that prevent terminal illnesses, while fitness coaches can customise the types of exercise you should do according to your physique in order to optimise your trainings. The possibilities could be endless. What else do you see as a huge benefit of lifelogging?
Read more: The intersection of the quantified self movement and big data
Image credited to Jawbone
If you enjoyed this post, you can also subscribe to our monthly newsletter!  And don´t forget that sharing is caring….Lend your clip to a friend today!