At Narrative, we value our customer's feedback seriously, which is why we have tons of channels where you can get in touch with us!
One of our favorite channels (if you do not know this feature by now, you should!) is the Narrative Suggestion Board because it is such an amazing smorgasbord of ideas from all our users.
The Narrative Suggestion Board is a place where we hope to engage all our Narrative users in sharing creative and collaborative ideas to make the Narrative Experience even smarter, more intuitive and more holistic.
If you have a great idea, feel free to share it with us. If someone else has already submitted your idea, it will show up in the search results. You can then simply vote for, and/or comment on it. If it hasn't been submitted, enter your idea and vote!
Ideas will be reviewed by us to determine their potential and will be presented to the product development team regularly.
To get us started, here are two of our favourite suggestions so far! What do you think?
Make it easier to transfer Narrative Clip ownership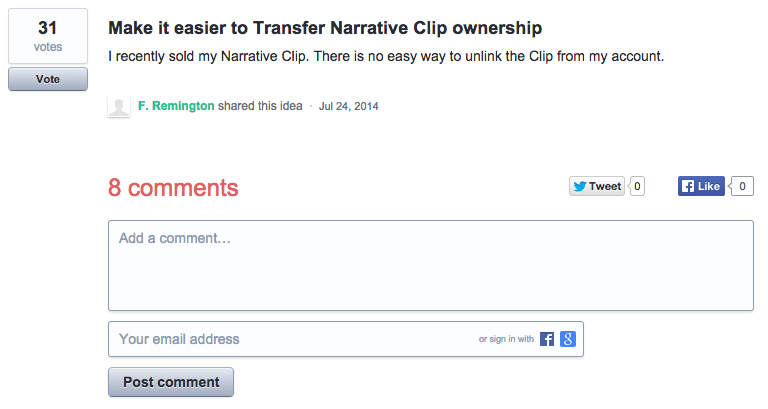 We thought we would start off with some good news first! For the past few months, we have been quietly working on an easier process for our users to seamlessly lend out your Clip to a friend or transfer ownership. And we are excited to announce that it is ready!
It is now easy to do a factory reset and to lend your Clip out!
The new version of the Narrative Uploader now has the option to create a new Narrative Account. All you need to do is give your friend the Clip and point them to start.getnarrative.com. Once the Clip is connected, the Narrative Uploader will automatically prompt the new user to create a secondary account for the Clip. This way, your own Narrative account is unaffected. Upon signing up, they will get a free 3 month trial of the Narrative Service. Just be sure to empty your Clip before you hand it over.
When you're ready to use the Clip again, simply connect it to your computer and sign into your account. The Narrative System will automatically disconnect from your friend's account.
If you would like to do a factory reset, it is also now possible. For more information, check out this video tutorial!
It is effortless. Always make sure to use the latest Narrative Uploader version. 
Try it and let us know what you think! For more information, check out the Narrative Support center!
Make a web app to manage your moments in a PC/Mac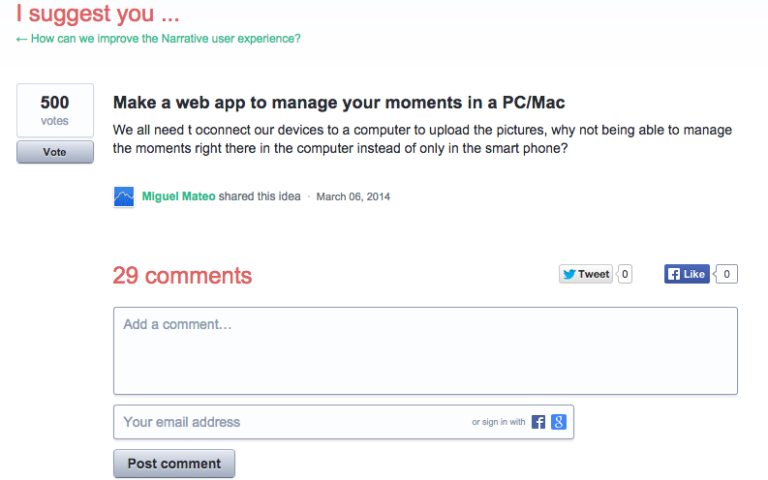 Over the past few months, we've also received overwhelming requests to have a web app! This suggestion has landed on our developers table for consideration. In order to make the most of your suggestions, we would love for you to go a bit deeper and suggest specific features and services you would like to see built into a web app. Would you want to use the Narrative web interface primarily as a visual log of your pictures or to share/download/edit pictures? We would love to hear different perspectives on this so drop us a comment/vote on this suggestion here!
What other features do you hope to see?  Ping us at@Narrativehelp or share it with the Narrative community here. To learn how to connect with Narrative Support, check this article out.