Logging the longest walk
If you think lifelogging is uninteresting and pure troublesome, think again. Last week, we shared how Tom Fletcher from McFly combined songwriting and lifelogging to document his wife's journey through her pregnancy. And this week, we'd like to share with you yet another amazing project that we think you'd love! In the video above, you'd find Christoph Rehage, a man who spent an entire year walking through China by foot. Although his original plan was to walk from China to Germany (!!!), his journey ended after walking for more than 4500km from Beijing to Ürümqi, solely on foot. This film has also won several awards three years in a row, including the 2009 Boulder Adventure Film Festival, 2010 Berlin Webcuts and 2011 Vancouver International Mountain Film Festival. If you enjoyed this, head over to his Facebook page and check out more of his works like a beautiful time-lapse video of Pisa.
Read more: The longest way
Video credited to The Longest Way 1.0 – walk through China and grow a beard! – TIMELAPSE from Christoph Rehage

From Internet to "Inner-net"
Lifelogging the way Christoph Rehage did can reveal many things that were previously tucked away in the unknown. To delve into the unknown realm of our personal lives, many have also chosen to quantify themselves with various wearable tech gadgets. Here's introducing Mr. Chris Dancy, who allegedly is the most connected man in the world. According to an interview done between Chris and PSFK, he currently has between 300 to 700 systems that capture data on his life in real time at any given moment. As Chris mentions in the interview, he believes that the future of wearable technology is heading towards the rise of a 'Human operating system' or what he calls 'Existence as a Platform'. In addition, he believes that the biggest thing that the Quantified Self movement will see in the next five years will be these different devices working together and creating lifestyle systems with receipts for goals or outcomes. In his words, "We will leave the 'Internet' and create the 'Inner-net.' " Are you ready to embrace the Human OS?
Read more: What the most connected man in the world believes is the future of wearable tech and How wearables became the key tech trend of 2014
Image credited to PSFK
Quantifying before birth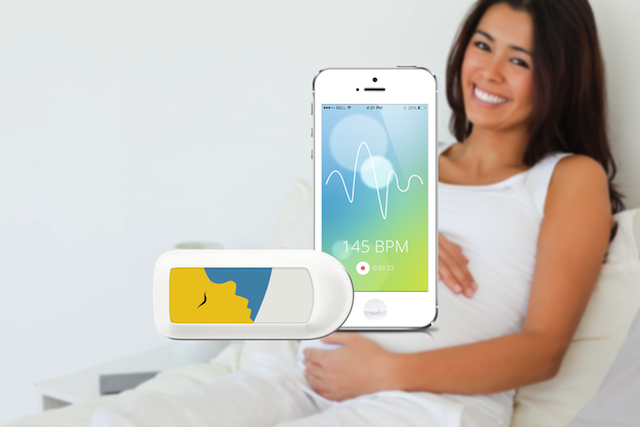 And with some people embracing the Human OS mentioned above for their babies through various baby-logging apps, there is also one particular start-up that is eager to get self-tracking started in life that hasn't even been born into the world. Designed for pregnant ladies, Bellabeat allows moms-to-be to listen to and share their baby's heartbeat, as well as track their pregnancy using just a handheld gadget and their smartphone. Bellabeat tracks almost everything a pregnant mom-to-be would like to know – countdown till the pregnancy due date, the baby's heart rate and even their kick counter. It also gives prenatal tips or helps these pregnant moms find prenatal care. With such a comprehensive and targeted use case, the company has managed to sell 2,000 units in just the first two weeks. If you're a mom-to-be and you're keen to track your baby's progress, head over to order your Bellabeat baby monitor now at just $129!
Read more: Hands On With Bellabeat, The App That Lets Moms-To-Be Hear And Share Baby's Heartbeat and Taking measure of the Quantified Self Movement
Image credited to Bellabeat
From the bird's eye view
As we explore lifelogging on the road through Christoph Rehage and in the womb through Bellabeat today, here's Alex MacLean taking us through lifelogging way up in the air in his photography series known as "Aerial Perspectives". MacLean is a fully licensed pilot and uses his highly efficient Cessna 182 carbon fibre aeroplane to explore the world recording landscapes, architecture and human behaviour from a bird's eye view. Besides the usual challenges that a professional photographer has to face, MacLean also has to tackle issues such as unpredictable weather, changing lighting conditions, and the plane's vibration. Yet, with more than 30 years of experience, MacLean has managed to capture many breathtaking aerial views. Check out more of his works here and let it take your breath away!
Read more: What the World Looks Like From the Cockpit and 16 Photos of Unique Perspectives From Mashable Readers
Image credited to Alex MacLean
If you enjoyed this post, you can also subscribe to our monthly newsletter, and check out our FAQ if you need help with your clip!