Creative activities for your lifelogs
One of the indirect benefits of engaging in heavy lifelogging is the new need and want to do creative things. Who doesn't like to review a colorful life in retrospect? While you can spend money to take your entire family on a fancy vacation to create wonderful memories that you can journal about, you could also try doing some interesting activities at home. Here's how Angie Keiser and her fashion-forward 4-year-old daughter, Mayhem (above), has done it: gather a few pieces of construction paper, scissors and tape, and you're all ready to go! With an exception of the more complicated gowns, which can take up to four hours, Keiser and her little daughter work together for an average of 5-10 minutes to make dresses like this one inspired by Minnie Mouse. With this eye for fashion, this mother-daughter duo create many outfits inspired by real-life or cartoon characters, and then this little 4-year-old immediately transforms into a runway model to exhibit the masterpieces she made with her mother. Want to see more interesting outfits? Check out their blog dedicated to Mayhem's wildly creative gowns, called #FashionByMayhem.
Read more: 4-Year-Old Fashionista Creates Fancy Frocks Out of Paper and 44 Beautiful Candid Moments Captured in Photographs
Image credited to #FashionByMayhem
Creating anti-war messages
One of the many popular projects that have been birthed out of the desire to create lifelogs is "A second a day", made even easier by an app called One Second Everyday. One particular UK organization, Save The Children, has created an extremely thought-provoking video using this concept of "A second a day". With a powerful tagline, "Just because it isn't happening here, doesn't mean it isn't happening", Save The Children aims to raise awareness about the situation in Syria, specifically focusing on how children are affected by the civil war. Their vision? "We save children's lives. We fight for their rights. We help them fulfill their potential." So if you share the same vision and would like to show your support to highlight the desperate need for peace in Syria, you could join their campaign, "Faces for Syria", by uploading your image here. With that, on the eve of the 3rd anniversary of the conflict in Syria – 14 March – your picture will join thousands of others to form part of an iconic image of support that will reach millions of people around the world, mainly through Facebook and Twitter, to show every Syrian child, woman and man that we are with them, that we are #withSyria.
Read more: Shocking 'Second a Day' Video Delivers a Powerful Anti-War Message and Crimea: where war photography was born
Measuring breakups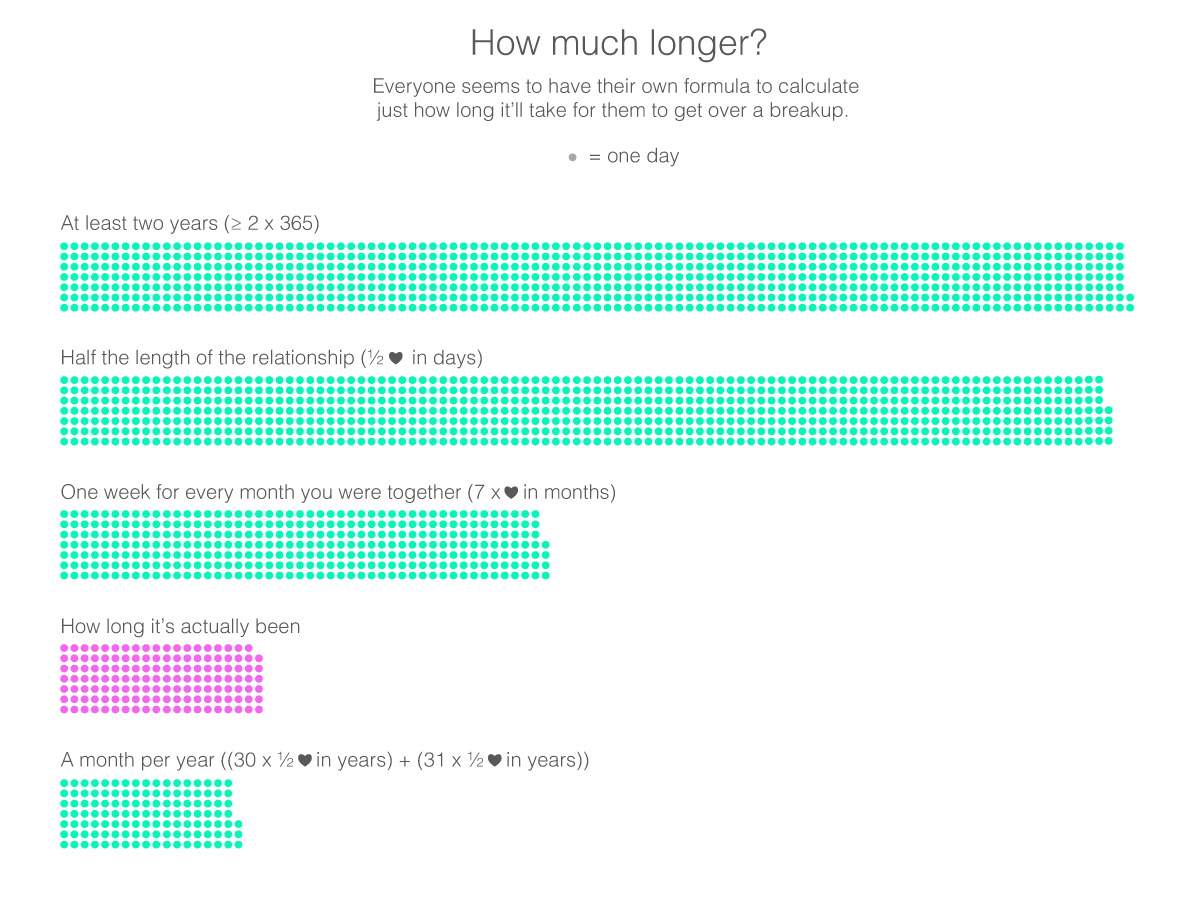 And if you're less of a photography/videography person, you might be interested in the quantifying portion of lifelogging. Known as the quantified self movement, enthusiasts would measure everything from their heart rate over the day, their sleeping habits and behavior, and even their babies' vital signs. But just this week, we discovered one particular Quantified Self enthusiast, who had begun tracking and quantifying her behaviors after her breakup. Things measured include the things bought after the breakup sorted according to price, usefulness and category, the number of posts on her Facebook and Twitter accounts, as well as the number of times she listened to her songs sorted according to whether they were happy or sad songs. According to her, "Putting this process into numbers, images and data visualizations has been very helpful. It yanked me out of moments of all-consuming sadness at the beginning and now helps me understand that I'm doing ok, despite of how confused I might feel (looking for positive trends within the data!) I hope these web things can help you, too."
Read more: Quantified Breakup and How lifelogging transforms us all
Image credited to the Quantified Breakup blog
Sony Smartband for lifelogging
If you haven't got all that patience to manually record all that data of breakups or get-togethers, you would probably love to get your hands on some self-tracking device. Apart from the popular FitBit and Nike FuelBand, here's one that Sony is going to release this month in March 2014, after showing a sneak preview at both CES and the Mobile World Congress that just past. Functions of this Sony SmartBand include creating a log of your activities, such as the places you've been to, music you've listened, games you've played, sleep cycles and so forth, while notifying you of incoming calls, messages and tweets by vibrating. This all-in-one SmartBand can also be used to play, pause and skip track in your walkman app by pressing a button or tapping the band. Multiple functions packed in this tiny wearable gadget by Sony. Rumor has it that these will be retailing at about 99 Euros ($135, £80). In this video review, it is also said that the Sony SmartBand helps you learn from your experiences. With such a comprehensive list of things that you could track, you could even investigate the reasons behind why your timing for the run was particularly good last week, owing all credit to, for instance, the music you're listening to. Will you get one?
Read more: Sony's SmartBand Lets You Create a Detailed Log of Your Life and Sony's SmartBand fitness tracker will launch worldwide in March
Image credited to Mashable
If you enjoyed this post, you can also subscribe to our monthly newsletter! Do you need help with your Narrative Clip? Check out our awesome FAQ!