Meet the world's most wearable camera
The Narrative Clip 2 was designed for you. We listened closely to our amazing community about what they wanted from a wearable camera and how we could improve. The result is this — a Narrative Clip that captures more of the moments that matter to you with a better camera, wider angle lens and adaptable wearing options, so you can find the right angle every time. Whether you've been with us from the beginning or are just checking us out, getting involved really does make a difference (Keep it up, here!!). Check out all the fantastic improvements for yourself below!

Clip 2 has four major improvements
The Narrative Clip 2 takes the functionality of our tiny wearable camera to new heights. Enhance your memories with its 8 mega pixel camera and a wider angle lens to take in more of life. Wireless uploading and interchangeable mounts give you freedom to make the most of any experience. Whether you're hiking the Appalachian trail or recording your daughter's first year, Clip 2 will capture your adventures beautifully with these new developments.
For even more detail, check out this comparison chart to quickly see the differences between Clip 2 and the original Narrative Clip.
Public moments in the Narrative App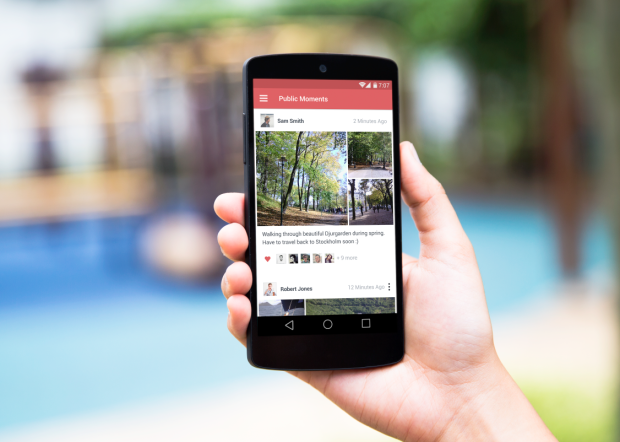 As natural as it is for us to cherish our memories on our own, sharing them with others is often just as valuable. Today, we are releasing the first step in making the Narrative Service a more social experience. The public moments timeline is now available on the Narrative Android app and iPhone. You can choose to share complete moments and add more context to them by providing a caption or description. It's a fantastic way to connect to others in the Narrative Community and share your stories and liking theirs. Check out public moments in your Narrative App.
The Narrative smartphone apps are an integral part of the Narrative Experience and are being developed along side the camera. The Narrative App allows you to view your photos in an organized and straightforward way. Your moments, a logical collection of photos, are presented with time, date and location information on a timeline. You can then go into each moment and view all the photos as a timelapse or scroll through them one by one.
Join the thousands of people who are already enjoying the Clip and helping develop it!
Science tells us that our memories are rewritten slightly every time we recall them. Our brain fills in the gaps of details that are no longer clear to us. Remembering our lives, especially times that in retrospect are precious, is engrained in the human experience. We draw, tell, write, photograph and film our stories so we can re-experience, heal, impart knowledge and live on after our time.
The joy of remembering what was is what draws a lot of us to the idea of a wearable camera. The simple and beautiful ambition of Narrative is to remember more of the unassuming times as well as the grand ones.
The reality of bringing this idea to fruition has been a journey. One with many twists and turns but one that has consistently moved forward and brought an abundance of amazing people into our lives along the way. We'd love for you to be among them.
The Narrative Clip 2 is coming in 2015, the original is still available at getnarrative.com.
*Actual options may differ from the ones shown here.