During the summer, I worked for Linköping University in the project Smart Savannahs in close collaboration with Narrative, where also HiQ, iHub, Kolmården Zoo and Kenya Wildlife Service are closely involved.
The vision of the project is to develop innovative cost-efficient sensor solutions for monitoring of natural resources, be it rhinos, minerals, forest timber, marine environment etc.  The natural assets that have been subject for monitoring in this part of the project, are all live and moving around; animals in Kenya wildlife park Ngulia, and especially endangered rhinos.
The goal is to equip the park with sensors to increase connectivity and get a view over as much of the park as possible. By putting the Narrative Clip on animals, the hope is that quantified information will be collected in the form of both picture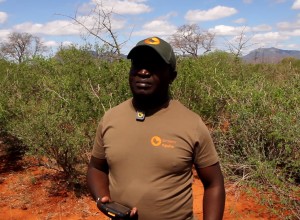 s and other meta-data, and that this can be used for learning more about the animals behaviour in the park from a scientific perspective, and as a protection from poachers.
The first step in Ngulia will be to place Narrative Clips on rangers and researchers for easier documentation of observations, and logging of their whereabouts using the battery-efficient GPS. Previously, the rangers had to write a report about each fishy-looking sight, but now this task has been digitalized with the help of a web-based ticket system developed for the project.
In parallel with researchers using the Clip in Kenya, testing is being conducted at Kolmården zoo in Sweden, where a camel and a horse have become proud owners of a Narrative Clip as well. They are currently collecting data at Kolmården for a thesis work, and seems very happy doing this!
Apart from providing Narrative Clips for the partners of Project Ngulia, this has been a test for Narratives Open Platform. A lot has been learned, maybe most important that the Open Platform can be used for building very powerful applications on top of Narratives data layer.
If you are interested, read more about the project here!
By:
Anton Amlinger, developer at Narrative