Our Golden Ticket winner, Kei, does!
Kei recently attended a cooking class in Osaka where he learned to make traditional Japanese food. Of course, he clipped on his Narrative Clip 2 for the duration of the class, and we are excited to share some of Kei's photos with you!
This is Kei, telling us about his experience at the Eat Osaka class:
It started with me took me from the hotel to Tsutenkaku where Arisa, the class teacher, met me and the six other students. It started to rain just before we were to meet up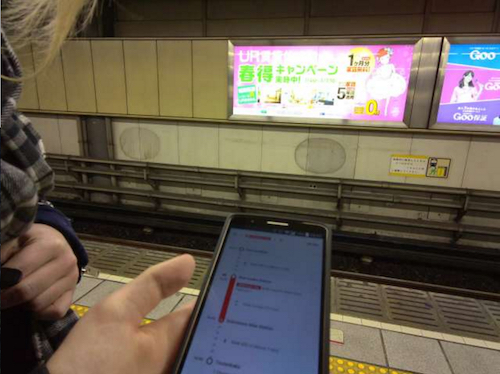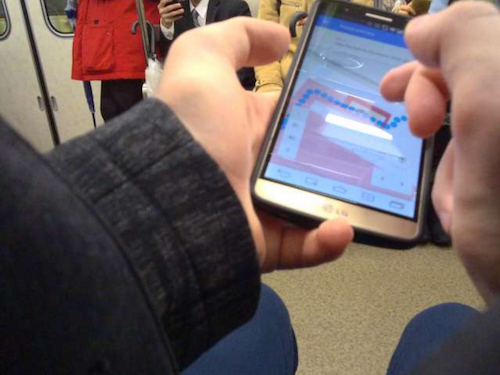 Finding my way to the class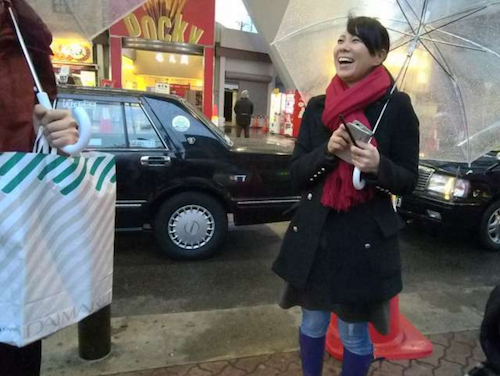 Arisa, Eat Osaka class teacher
Arisa, again!
After we all met each other at Tsutenkaku, Arisa led us to an apartment on a side street just 30 meters from the tower. There we took off our shoes and put on slippers (a common practice in Japan), wash your hands, and then put on our Japanese aprons tied at one for me and the other foreign participants unfamiliar.
After we put on our aprons as we gathered around a table which was prepared with all the tools we needed; including chopsticks, gas stove, cutting board and knives from Sakai. The knife that I use here is made in the area of Sakai in Osaka. Japan is known for having the best knives in the world, and in Japan, Osaka is known for having the best knives, and in Osaka, Sakai is known for having the best knives. Hence, one might say that the best knives in the world is in Sakai. I lived in Sakai with my first host family during my time as an exchange student in Osaka. I bought knives similar to the ones used at the Eat Osaka class for my dad from a store in Sakai 5 years ago.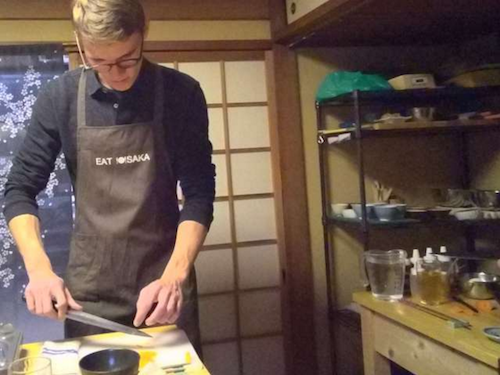 A class attendee learns to use the world-famous knives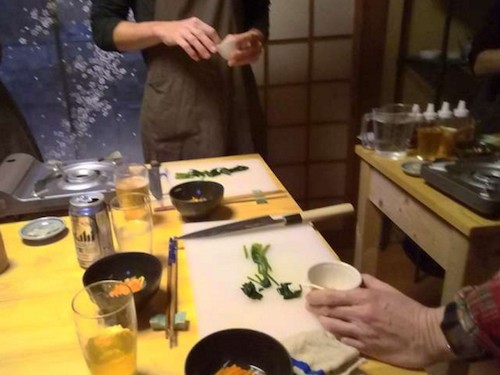 During the class, we cooked three hors d'oeuvres; 1) thinly sliced carrots pickled in vinegar, water and sugar, 2) cooked spinach marinated with soy sauce, mirin, and crushed sesame seeds, and 3) Japanese omelette (called tamagoyaki) that is made of eggs, sugar, dashi (Japanese broth) .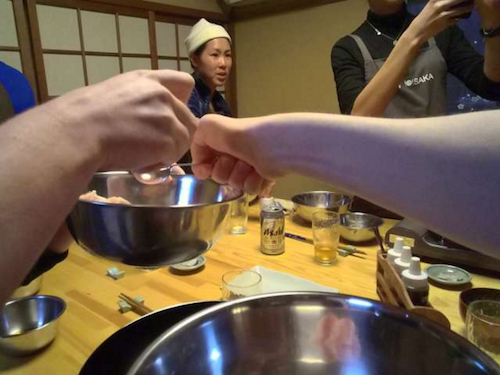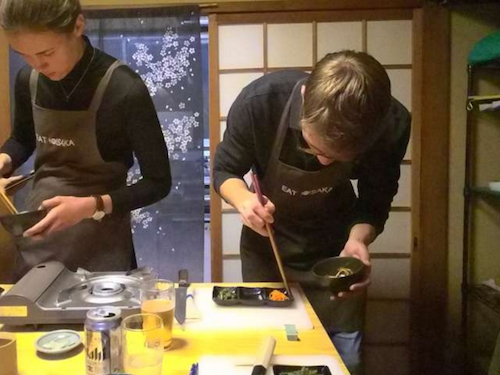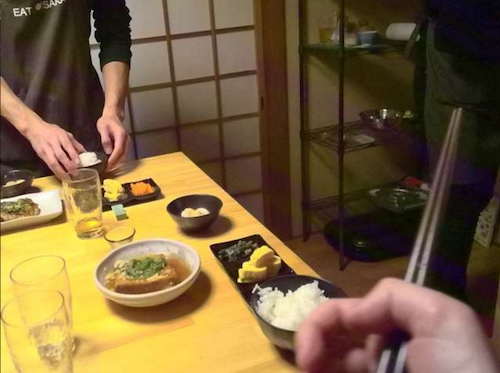 In addition to side dishes we cooked homemade miso soup with fresh tofu and Japanese seaweed (wakame), rice, and fried pork chop that was marinated in soy sauce, grated ginger, sugar, mirin, and Japanese sake.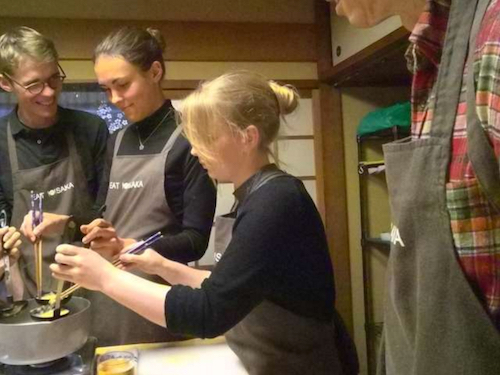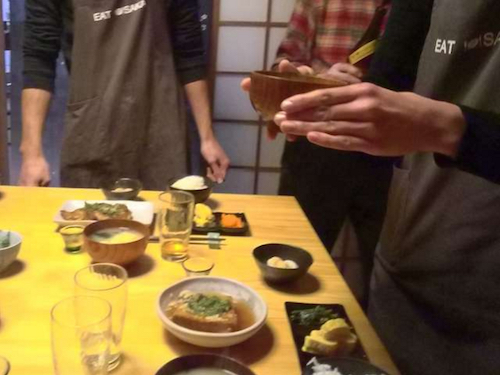 Finally, we made a dessert called shiratama-dango which is made of mochi (mashed / kneaded boiled white rice). Shiratama-dangon was covered in a thick sweet soy sauce and soybean powder.
Arisa went through each dish step by step, as we cooked food together in groups of two. It was great fun! Among other things, Arisa went through a lot of interesting facts about Japanese cooking: for example around the term "Wa-Shoku" (meaning Japanese food). The sign of "Wa" (和) meaning "Harmony", and "Shoku" (食) meaning "Food", and that together they would represent a harmonized and  balanced diet or meal, and that this is in the center of Japanese cooking culture.
We had great fun during the course and got to know each other quickly. Two of the other participants were from Australia, two from Germany and one from China. All participants brought their own drink to go with the food, and the man from China was generous enough to bring a whole bottle of Japanese sake which he shared with all participants and Arisa during the meal. We sat down to eat and drink, it was really nice. Everyone was very friendly and it was fun to hear everyone's stories about why they were in Japan, and why they have an interest in cooking.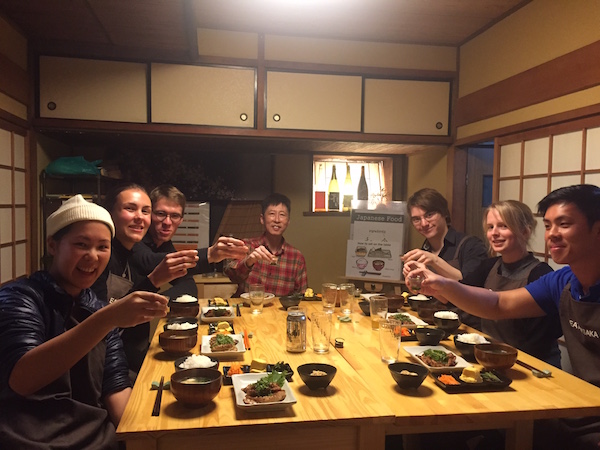 All the class attendees enjoying theirs home cooked traditional Japanese dinner (this picture not taken with Narrative Clip 2, but with an iPhone 6)
Check back in for more of Kei's adventures in Japan!
Would you also like to capture your adventures while effortlessly living them? Get your own Narrative Clip 2 on our website!