Image Header: 2 Osaka landmarks, the Osaka Castle and the Buddhist temple Shitennō-ji, photographed by Kei during his time as a student in Osaka 5 years ago.
The Golden Ticket Trip is Just Around the Corner
Remember Kei, Narrative's Golden Ticket winner? He is about to leave for his Golden Ticket trip to reunite with his friends and previous host families in Japan, and we couldn't be more excited!
Kei in Stockholm
Yesterday I briefly met with Kei in Stockholm at the Central train station. Kei lives in Gothenburg but was in the capital over the day to have an interview with a representative from Princeton University.
It was great to meet Kei and share some of his excitement for the upcoming Golden Ticket trip!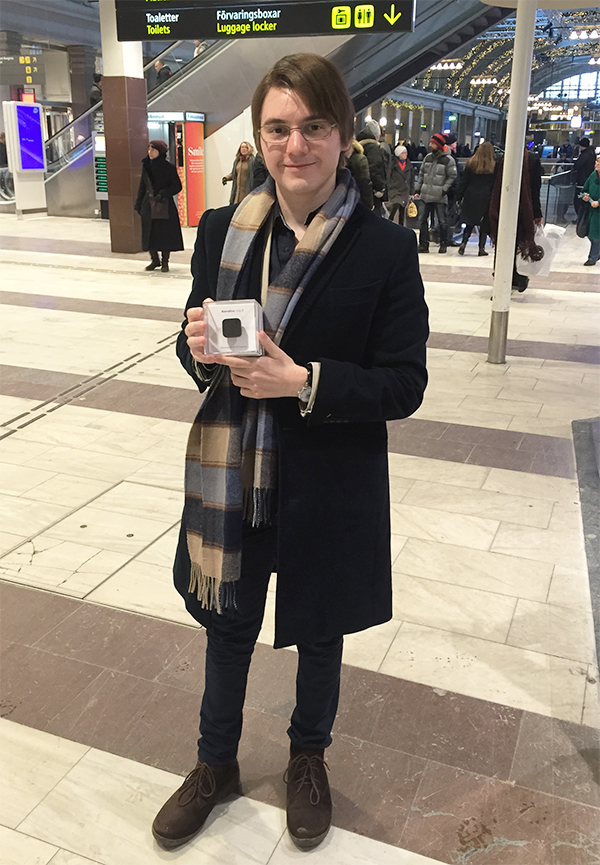 Kei at the Stockholm Central train station holding a Narrative Clip 2 that he was one of the first people to pre-order
I also had a chat with Kei to catch up and to ask him how he is feeling with the Golden Ticket trip just around the corner:
How does it feel now when you are about to go back to Osaka and Japan again after 5 years away?
"At the moment I am more excited than I have ever been. I am sure that it will all feel very surreal and incredible once I land in Osaka. Japan really is like a whole other world, and to finally go back and meet all my friends and host families will be an amazing experience."
How did your friend Shota react when he heard that you will be coming back to visit him?
"He was incredibly happy for me. At first, he couldn't believe it, and I had to explain several times that I have been given the trip. When I told him that the purpose of the trip is for me to reunite with him and his family he felt really touched and thankful."
What do you look forward to during the trip?
"I am mostly looking forward to get to meet several of my friends and host families most of whom are living in Osaka. I am also planning to visit Hokkaido, Tokyo and Okinawa, and I am really excited about all the activities that Narrative has prepared for me. I have got a whole list of foods that I want to eat (such as 551's butaman, okonomiyaki, tonkatsu, omuraisu, and sushi), places that I want to visit (like Osaka Castle, Dotonbori, and the Studio Ghibli Museum) and things that I want to experience (like going whale watching and snorkeling in Okinawa, or driving a snowmobile in the mountains of Sapporo), and I can't wait to get back to Japan."
Kei's Trip
Here at Narrative, we are beyond excited to follow Kei on his Golden Ticket trip. Kei will go back to visit Shota and the whole Nasu family again, a moment he is very excited about. Kei will also meet the 2 other great host families he had during his exchange program in Osaka who are very dear to him. During the time in Osaka Kei will also revisit beautiful famous landmarks such as the Osaka Castle och Sumiyoshi-taisha Shrine. What a great thing that Kei is staying for almost a month in Japan! Kei's father and brother will also come to Japan during some of Kei's time there, together they will travel around Japan and do everything from visiting a deserted island to experience the blooming Cherry Trees and also take a trip to the famous Mt. Fuji! This will all be captured with Kei's Narrative Clip 2, and we will be sure to keep you all updated on this amazing journey!