Image credited to Zoar
The most wonderful time of the year!
For most people, Christmas is indeed the most wonderful time of the year. Everything slows down a little and somehow becomes way more magical. It's a season of love, joy, peace and hope as families gather together around the fireplace or at least the dining table for turkey in places that experience absolutely no dip in temperature. Wishes for various gifts come true for children during this magical season, as parents all around the world become the ad-hoc Santa Claus or fairy godmothers they had always told their children about. This year, several children with serious illnesses even had the chance to board their dream flight to the North Pole instead of dwelling in the whitewashed hospitals. One company also helped to visualise Santa's flight path as the magical Christmas season draws close. And if you're running around the world this Christmas just like Santa, here are some tips for traveling during this festive period.
Do's
1. Christmas markets
Image credited to Tumblr
Like we've mentioned before and will emphasize again… Christmas markets! Whether it's to grab some local produce to cook up a feast with your family at home or going as tourists who come from countries that do not have elaborate Christmas markets, this is the season to be jolly amidst traditional Christmas delights at the markets. Or if Christmas markets aren't your thing, here are some of the best Christmas attractions featuring The Pantomime and Winter Wonderland in London if you're making a trip there.
Read more: Best Christmas markets in Europe: Mulled wine, smoked sausage and handmade gifts and The 12 European Christmas Markets We Love To Love Every Year
2. Christmas lights & decorations
Image credited to Christmas Designers
Christmas lights adding that sparkle to the streets and cities with long dark winter nights are a huge portion of the brew that creates a magical Christmas. Every city you travel to will have its unique Christmas lights and decorations that brings about a different atmosphere. Here are some of the world's best Christmas decorations this year and America's best streets for Christmas lights that you can look out for if you're heading to these places. Or if you haven't booked your accommodation for your upcoming year-end holiday, here are also 10 hotels with over-the-top Christmas decorations that you can consider!
Don'ts
1. Suffer on your long-haul flights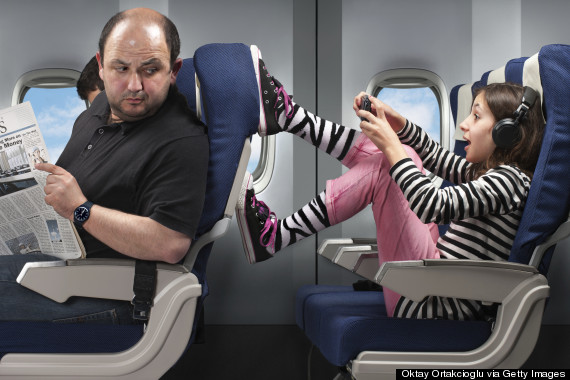 Image credited to Huffington Post
Perhaps you're taking the longest trip you've ever taken this Christmas as you wander way up North to experience the full extent of a White Christmas. Or maybe you're escaping the cold dark winters for a tropical vacation closer to the equator. Whatever it is, we know that long-haul flights can be terribly uncomfortable. And we know that the last thing you'd want is to crash on your bed after your long flight and miss out on the Christmas cheer and joyous gatherings. In their guide, Huffington Post has suggested a few ways to survive a long-haul flight effortlessly. This begins with choosing the right seat, moving to keep your blood circulating properly and eating/sleeping at proposed timings to combat jet lag. We hope these tips work for you too. Bon Voyage!
2. Rage in the air
Image credited to Career Intelligence
The most bizarre air rages have been happening recently. Delaying flights because of a bag of macadamia nuts or hurting air stewardesses with piping hot cup noodles are just some examples of these. So be prepared for all kinds of unexpected air rage and consciously be of good cheer so that you won't fall victim to or be a perpetuator of this.
Read more: Eight bizarre types of air rage
3. Pack your connecting flights back to back
Image credited to Central Michigan University
Be prepared for delays during this peak season for air travel. Whether they are delays on the way to the airport, at the check-in counters or up in the air, do set aside a comfortable amount of time in between your transits/commutes. Remember: anything that can go wrong, might go wrong. Keeping that mentality will potentially save you from unwanted negativity during this jolly season!
Read more: Britain's worst airports for Christmas delays named
Have a Narrative Christmas!
Video credited to Ninja Abortion
We hope that this post has helped you to plan your Christmas travels a little better! Or if you're still scrambling around for Christmas gifts, here's one for the spontaneous explorer from Mashable or another from Silicon Angle for the high-tech lovers!
And if you've got a Narrative Clip in your hands, be sure to wear it so that you can fully immerse yourself in the joys of spending Christmas with your loved ones without having to whip out your cameras every now and then. #MyChristmasNarrative to share your Christmas joys with us!
If you enjoyed this post, you can also subscribe to our monthly newsletter!