1. The digital nomads
Image credited to Mashable
According to Global Workplace Analytics, some 2.6% of U.S. workers — about 3.3 million people — telecommuted at least half the time in 2013. In determining who they are, Victoria Yershova of Digital Nomad Hub says that there are three types of digital nomads — freelance professionals (programmers, writers), online entrepreneurs and remote employees who started out in the office but are now roaming the world. Keen to be a digital nomad yourself? Check out this Quora's response on "What are some interesting careers which include traveling, photography, and meeting new people?"
Read more: Digital nomads travel the world while you rot in your office
2. The record breakers
Image credited to Team Come On
Three friends from Norway had set a new world record in September 2014 for traveling to the most countries in a single day. Their current record stands at 19 countries in merely 24 hours! Perhaps with the advance in commuting technology (see point 5 below), more and more people will find themselves in a position to smash this newly-set record.
Read more: Trio Of Norwegian Men Travel To 19 Countries In 24 Hours, Set New World Record
3. The ones who use the Internet to find travel mates
Image credited to The Independent
Besides the TourRadar app that we introduced in the ABCs of traveling with tech, many others are turning to the Internet to search for their travel companions. Jordan Axani is a classic example of this. Having broken up with his girlfriend, with whom he had already bought tickets for an around-the-world trip, Mr. Axani turned to Reddit in hopes that someone else who bears the name of his ex-girlfriend would be able to take up the plane tickets. Thus far, a Canadian lady who is exactly named Elizabeth Gallagher has responded, after being egged on by her two daughters aged 23 and 25. All thanks to Reddit!
Read more: Man seeks woman with his ex's name so round-the-world plane ticket doesn't go to waste and Who Are Millennial Travelers and What Do They Want?
4. The marathon runners
Image credited to A Trail Runner's Blog
Marathon enthusiasts who have competed for several years in their own city or who simply need to run a couple of marathons a year, are beginning to turn to races overseas to quench their thirsts for marathons. This could be partly due to decreasing airfares, coupled with how one can now easily find (free) accommodation through friends or family who have relocated to another city because of the presence of countless social media platforms that have made it easier to stay in contact. Are you ready for the next race?
Read more: How — and how not — to travel for running races and Top 10 Marathons Worth Traveling For
5. The ones who didn't take a plane
Image credited to AeroMobil
Whether it is buying yourself a flying car, or getting on board the most high tech cruise ship, there will definitely be an increase in the modes of transportation you can use to get between cities and countries in future. The discerning (and increasingly demanding) traveler is surely going to be picky about the best transportation type for him/herself, both in terms of speed, ease and duration in getting to the destination. Let's keep a lookout for those UFOs we're going to see!
Read more: Flying car prototype could get you to work faster than a 'Jetsons' episode and Quantum of the Seas: inside the world's smartest cruise ship
6. The young traveler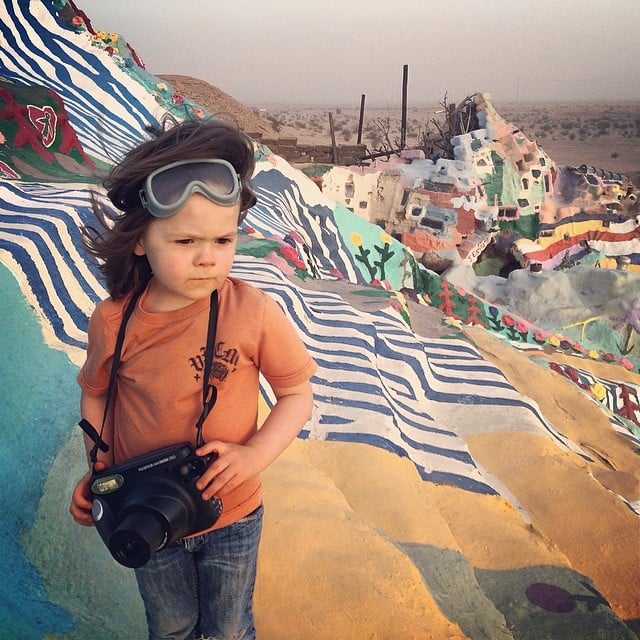 Image credited to Aaron Huey
And we mean, super young. In the picture above, you would find little Hawkeye Huey, the son of National Geographic photographer Aaron Huey. Initially starting out as a father-son bonding thing, Aaron first handed his son a camera because he wanted little Hawkeye to stand on common ground and explore his own creative expressions. When his polaroids were developed, Hawkeye would run about interacting with people around him and excitedly share his works. In response to that, Aaron has since set up an Instagram account for Hawkeye to do exactly that with the digital community – and people (47000+ followers on Instagram as of today!) simply love him!
Read more: The Photography of 4-Year-Old Hawkeye Huey, Son of Nat Geo Photographer Aaron Huey and 23 Year Old Hitchhiker Carries Camera For An Entire Year To Capture Canada's Wild Beauty
7. The social traveler
Image credited to The Social Traveler
Here's one man who quit his job to travel the world. Perhaps a dream for many of us still stuck at our office desks, but there's more to this man than just that. He's also called himself The Social Traveler for a reason. And that's because he's allowing his social media following to dictate the things he should accomplish along the way. For instance, his 6th and current challenge is to learn to play the guitar without using the Internet – meaning that he has to put himself out there to get people to teach him. Subsequently, he also has to earn enough money through busking with his guitar to pay for gas for the VW 1978 van that he's sleeping in. Are you game enough?
Read more: 'The Social Traveler' seeks adventures in Saskatoon
8. The drones or virtual reality
Image credited to Marriott
Or those who travel, from the comforts of their sofas. 'Nuff said.
Read more: Why Drones Are The Future of Design Photography
If you enjoyed this post, you can also subscribe to our monthly newsletter!