As the year draws to an end, countless families are running around to get their holiday plans in place. Bookings, reservations, mode of transport, where to go, how long to go for and what to bring are amongst some of the many things that one has to consider before actually fully immersing and enjoying the vacation. Today, we would like to introduce some ways that technology has enabled us to have a new definition of traveling in style.
1. Windowless jets
Image credited to The Star Online
According to The Telegraph, a UK aerospace firm has released images of its windowless plane concept in which screens that show passengers the view outside replace the traditional windows that reveal a constricted view of the sky outside. Although still currently a preliminary conceptualisation of this idea, experts have noted that some of the technology that is involved in these displays are already available, such as the flexible displays required to make this possible. Imagine flying through the Aurora Borealis and having a full view of the display of dancing lights and the milky way!
Read more: Windowless planes: is this the future of flying?
2. Levitating trains at super high speeds
Image credited to Mashable
Apart from flying cars and airplanes, one other mode of transport that has officially lifted off the ground at record speeds are the trains in Japan. Although these maglev (magnetic levitation) trains have been used by many countries as a method to move vehicles with magnets instead of wheels, axles and bearings, these new Japanese trains have once again done the world proud. This new train can travel at 300mph and will be tested for a further 8 months after its first run with passengers this week. When completed, they are said to be able to halve the time taken to travel between Tokyo and Nagoya.
Read more: Japan's levitating train travels 300 mph and just carried its first passengers
3. A suitcase that weighs itself
Image credited to Bluesmart
Known as the world's first smart and connected carry-on luggage, Bluesmart is definitely something that tech-savvy and stylish travel consumers should have. Bluesmart not only allows you to lock, unlock and track the suitcase using an app, but also features a built-in scale that weighs your suitcase, while charging your devices using its built-in battery. Sounds like something you absolutely need? Head over to their Indiegogo campaign to pledge for one before their campaign closes in just a week!
4. Wearable boarding passes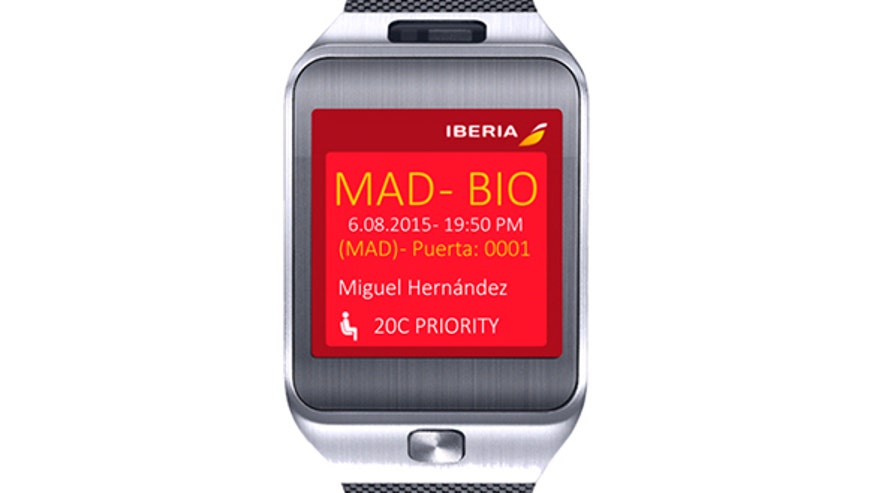 Image credited to Iberia
Iberia, a Spanish airline, has collaborated with Samsung to allow passengers to store their boarding passes in wearable devices such as Samsung Gear 2 and Gear Neosmart. This will allow passengers to simply tap their wristwatch on the scanner when passing through security and boarding the airplane. This partnership aims to move consumers towards a more seamless and hassle-free travel experience, which includes providing real-time updates and information about flight statuses.
Read more: Wearable boarding pass now available for smartwatch owners
5. Seamless booking experiences
Image credited to Trip Tremelo
Magically known as Dobby, this web service sure has some wizardry tricks up its sleeves as it infuses artificial intelligence with travel bookings. To use Dobby, one simply has to email him stating where and when you would like to travel and he would return with three best options according to your needs. What this means is you could forward to him your email correspondences and he will pick out keywords and return you with results in a few minutes. Dobby could also manage group travels by taking the preferences of each traveller into consideration, if you send Dobby an email and cc the list of travellers in it. On the other hand, if you're looking for smarter ways to book your boutique hotel, a new online hotel bidding company called Stayful has launched its service where Twitter users can start a request simply by tweeting at @Stayful with the hashtag #tweetstay and their destination city, travel dates, as well as the desired hotel level they want. Stayful will then tweet back, usually with an offer that is at a better rate than what is usually available online. Don't you simply love technology?
Read more: Have This Artificially Intelligent Travel Agent Book Your Next Vacation and Now you can book boutique hotels on Twitter
If you enjoyed this post, you can also subscribe to our monthly newsletter!