Two weeks ago, we discussed how the future of travel could lie in mobile technology, virtual reality and selfie hats or brushes and last week, we discussed how you could equip yourself with the ABCs of traveling with tech through apps, B&Bs and other gadgets that provide comfort and help to capture your memories. According to the 2014 SITA/Air Transport World Passenger Survey, 82% of European passengers are highly satisfied with their travel experiences due to advances in technology. And today, advances in technology have made things like traveling to space assimilate into the mainstream market. Will you dare to expand your definition of traveling and take a step into the unknown world out there? Here are 5 things you should know before booking your flight to space:
1. Plans for space travel had been incepted since 2004
Image credited to Smithsonian
Dreams of traveling to space were one step closer to reality when Virgin Group's founder Sir Richard Branson founded Virgin Galactic, the world's first commerical spaceline that has its headquarters in New Mexico. When founded, Virgin Galactic said it would put people in space by 2007.
2. It's been delayed, time and again
Image credited to REED SAXON/ASSOCIATED PRESS
Since its first planned launch in 2007, Virgin Galactica had put forth a series of other delays – in 2005 it said 2008, in 2010 it said 2011, and in 2012 it said 2013. In its latest timeline, Virgin Galactica's first space flights were due to launch by the end of 2014. Yet, another delay is on its way and Sir Richard Branson told David Letterman earlier in September that he hopes to take the first flight early next spring.
Read more: Virgin Galactic Delays Its First Flight Yet Again and Delay-Plagued Virgin Galactic Finds Itself Delayed, Again
3. Tests haven't been positive for Virgin
Image credited to Jaunted
Very unfortunately, although the Virgin Galactic spaceships have been tested several times during the multiple delays, SpaceShipTwo met its end on 31 Oct 2014 during another test flight. SpaceShipTwo had apparently exploded two minutes after it detached from WhiteKnightTwo, the vehicle that carries the spacecraft before it is ready to soar on its own. This explosion had resulted in the death of Scaled Composites' co-pilot Michael Alsbury and caused injuries to pilot Peter Siebold. According to Virgin Galactic, the explosion had been due to a serious anomaly that resulted in vehicle failure. Investigations are still ongoing regarding the cause of this anomaly.
Read more: SpaceShipTwo pilots, one killed and one injured in Virgin Galactic crash, identified and Beyond Rocket Science: The 8 Incredible Details You Never Knew About Virgin Galactic
4. Others want in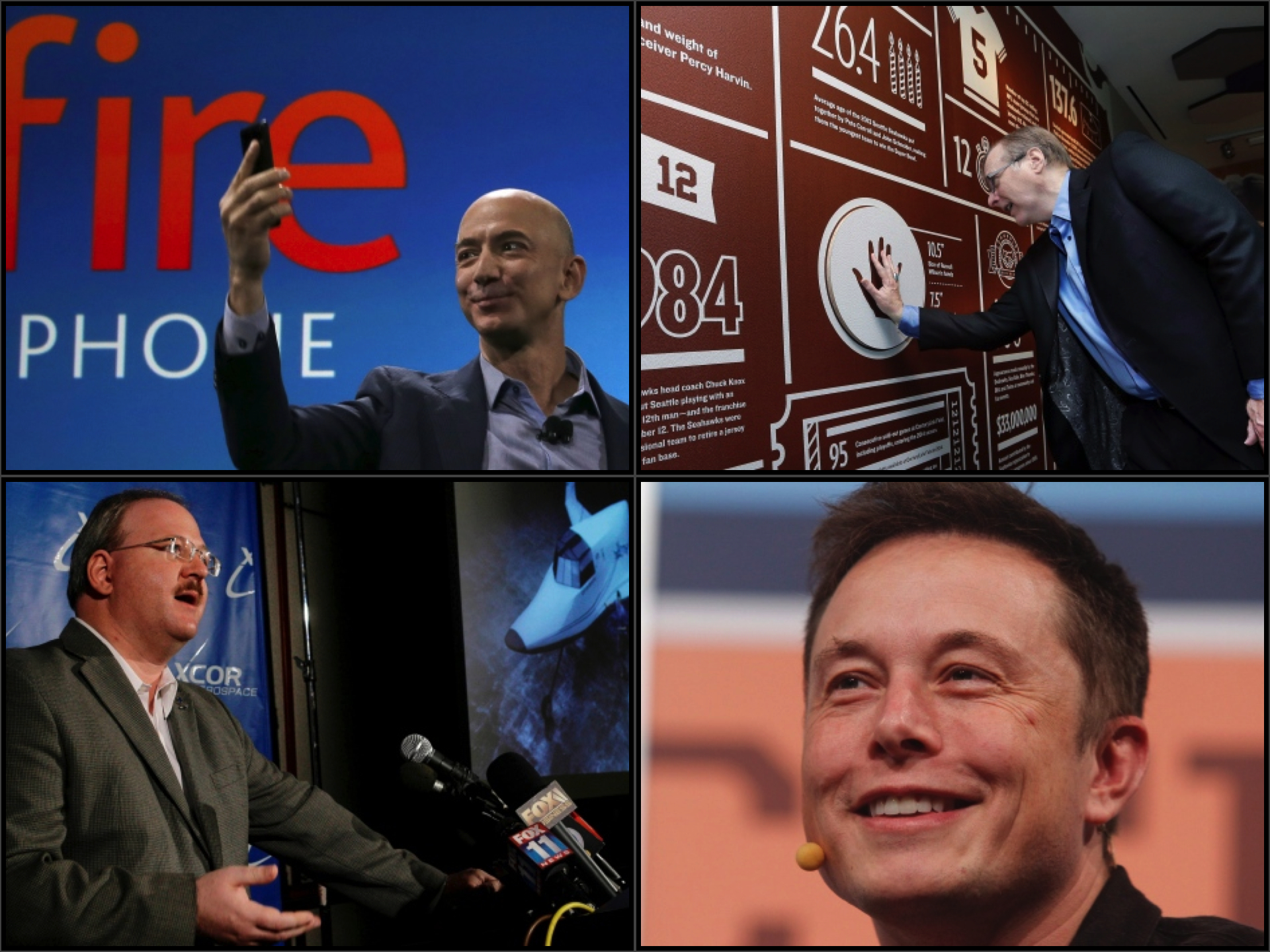 Image credited to CTV News
Even though most of the limelight has been shone on Virgin Galactic in recent times, various other tech giants have also begun to develop technology that could transport people to space in the near future. Jeff Bezos of Amazon (top-left of picture) is working on Blue Origin, which aims to lower the cost of space flight, while Paul Allen of Microsoft (top-right) is working on Stratolaunch Systems, which pioneers innovative solutions to revolutionize space transportation. Rocket scientist and formal Intel employee Jeff Greason (bottom-left) has also founded XCOR Aerospace, while Elon Musk (bottom-right) of Paypal and Tesla Motors has founded Space Exploration Technologies Corp in 2002.
Read more: As crash shakes up space-travel industry, a look at the tech titans seeking lift-off and NASA Orion spacecraft may make interstellar space travel reality
5. Medical assistance provided
Image credited to Newswise
If you're seriously considering booking a flight up to space after all we've shared today, then you should probably head over to your trusted doctor for a full body checkup and heed their advice regarding your decision to head up to space. And if your doctor is concerned if he'll be able to deliver drugs to you once you're in that land far far away, he can certainly be assured that that has been taken care of too. Houston Methodist Research Institute scientists will be receiving about $1.25 million from the Center for the Advancement of Science in Space to develop a remotely controlled drug delivery implant. This implant will thus allow the controlled release of drugs at a pre-determined rate. So nope, you won't have to fly your doctor up to space with you.
Read more: In orbit or on Earth, implantable device will be commanded to release therapeutic drugs remotely and Wearable health devices key for safe space tourism
Are you up for a space ride or do you just want to go back to your good old travels by planes and ships, coupled with dozens of travel guides in hand?
If you enjoyed this post, you can also subscribe to our monthly newsletter!